Sales have always been the core of an operation in a business. However, since the pandemic started in 2020, the sales pipeline has been taxed with the rising cost of customer acquisition digitally. Businesses are also struggling with maintaining engagement with existing customers.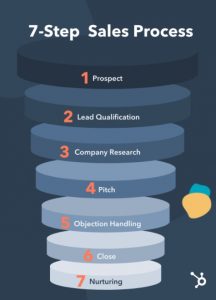 Credit: Hubspot
Traditionally, the sales pipeline involves plenty of physical interactions in consolidating multiple parties' communication. Ideally, a salesperson would allocate a majority of their resources, focusing on making the sales happen. However, each cycle stage is often cluttered with ad hoc tasks that end up being time-consuming for sales personnel.
As the world focused on perfecting its digital interaction after the pandemic broke out in early 2020, there are still obstacles that need to be overcome in eliminating mundane and repetitive tasks in a sales pipeline, especially in the financial industry where it's tightly regulated and benefits from immediate customer engagement. It eats up the resources of a sales team as these tasks tend to be meticulous and can turn disastrous if not completed on time, such as losing engagement with prospects, off-the-mark market research, or miscommunication during pitching. If there is no consolidation effort being input into the pipeline, a sales cycle could easily turn into an array of overwhelming spreadsheets.
Managing leads: how prospective clients fell through the crack
The biggest concern for most organisations in a sales cycle is ‌in managing and growing the leads that come through their pipeline. As mentioned previously, the tedious admin processes can bring down morale. In achieving a sales goal in a cycle in the financial industry, the sales department can be pressured to attend to a client as soon as a lead comes in. This is due to the fierce competition in the industry. However, each client needs different personalisation in their interactions, and this is where the focus of sales personnel should be. Managing incoming leads with the sales team resources can be tricky, especially when the workload is delegated manually; this is where a sales team ends up losing out on their potential.
Previously excel spreadsheets were widely used to track a sales pipeline; from enquiries, customer data, lead follow-up, and sales engagement, as the method, is considered widely accessible to accommodate the structure of a sales cycle. But there is no real-time follow-up synchronisation in these excel spreadsheets, which can cause confusion. Where the financial industry is concerned, this could lead to disastrous outcomes if the processes are not streamlined and consolidated accordingly.
Automate your sales process 
Utilising sales force automation (SFA) software helps oversee the end-to-end process while allowing every party involved to be updated simultaneously in order to avoid any mishaps, especially in tightly regulated industries such as finance and banking Assignment of tasks also becomes smoother, besides freeing up sales personnel's time from the mundane and repetitive tasks interfering with their focus to achieve sales objectives. Leads automation also plays an important role in minimising roadblocks in a sales cycle and helps foster smart sale forecasts, ensuring sales goals and projections can be achieved in a timely manner.
Sales force automation creates an intuitive journey for all sales personnel involved in the process. While this has always been a concern (dealing with roadblocks in an ongoing sales cycle), there have not been many efforts to streamline task assignments to the right person. Often, customers find themselves in a state of frustration by a lack of understanding from their financial and banking providers, which often led to a poorly managed escalation in the process. However, sales force automation is intuitive in the sense that it will assign the right sales personnel to ensure no leads are forgotten and increase the rate of engagement with customers. 
Besides that, sales force automation gives detailed insights into the crucial data needed in a sales pipeline. The knowledge gained from the compiled data then stays within the company as tracked by the system (eg: in the situation where an employee left). The sales team can now analyse past sales data, make a better sales conversion prediction, and upcoming opportunities and trends. This will allow for a major improvement in the overall customer relationship strategy and help the financial industry to further understand the ongoing and changing needs of their target audience, as proven by the disruption brought by the pandemic. An example would be in the case of a customer with a credit loan history with a bank; whereby this is a prime opportunity for the bank to offer new credit or financial products based on the insights gained from the customer's history, allowing for cross-selling and up-selling strategies.
Automating the sales cycle for the future
With the world going digital in a big way since the disruption from the pandemic, implementing sales force automation should now be mandatory for any existing sales pipeline. Digitising the sales cycle frees up resources and allows sales personnel to focus on the important tasks at hand – securing customers and closing a sales cycle efficiently without losing time. 
However, despite that, there is still a slow SFA adoption in many businesses due to the lack of understanding of the system and its benefits. This could cost a business not only monetary resources but also labour and time. The benefits offered by SFA would definitely transform the way a business runs in an organisation, ultimately leading to higher revenue and a better customer retention rate.
Want to kickstart the utilisation of SFA in your sales pipeline, especially in the financial and banking industry? Reach out to us at contact@juristech.net to know more about Juris Leads and Juris Go; our sales force automation software along with its companion on-the-go mobile app.