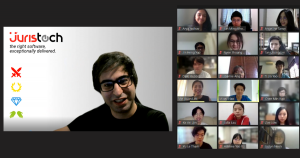 On the 23rd July 2021, our Chief Innovation Officer (CINO), Kiarash Razaghi Aval was invited to a virtual career talk by Monash University, School of IT, by Ms Mei Kuan – Internship Coordinator, to share his growing journey with JurisTech from intern to CINO, to more than 100 students in their final year.
Kiarash opened up to the audience by sharing his humble beginnings as a graduand software engineer from Multimedia University in early 2012, searching for an internship opportunity when he stumbled upon JurisTech in a career fair organised on campus. He mentioned how he saw an IQ and logic test being held at the booth and that immediately caught his attention. As someone who constantly challenges himself, Kiarash took part in both tests and with no surprise, he passed them.
Kiarash was later invited to sit for an interview with one of our representatives to share his experience and thoughts on taking up the test. Little did he know, he was sitting with our CEO, See Wai Hun. Kiarash was overwhelmed to be meeting her in person and to his surprise, Wai Hun, had offered him an internship position at JurisTech. Hesitant as he was to join, Wai Hun was determined to have him on board. This had put a positive impression on Kiarash and he decided to join after seeing how genuine and caring the company's leaders are for coming so far to a career fair just to attract new talents.
Kiarash moved to share his internship experience with JurisTech where he walked through several different training modules under the 'NewHOPe' training programme organised by the Heroes Training Academy (HTA). The programme involves a two-week intensive training to help onboard newcomers into the company to develop all the essential skills they need to fulfil their job duties. 
Despite having an abundance of academic knowledge in his field, Kiarash shared how working in JurisTech opened a new paradigm of perspective in the business environment, learning different business elements and how he learned to apply his knowledge and channel them across multiple stakeholders. Kiarash also shared how his experience working at JurisTech had empowered him to grow his technical and leadership skills together along with the growth of the company. He joined when there were only a total of 30 employees, whereas today JurisTech employs over 300 people.
Over the years, Kiarash has held several key positions in the company including being the head of R&D, also known as our Centre of Excellence (COE) unit. Today, Kiarash leads his significant role at JurisTech as the Chief Innovation Officer. He shares how his role involves overlooking new innovations across the company and ensuring that all units are aligned and synced with new technical innovations to help them push forward into the FinTech industry.
After a fruitful sharing session on his journey to the top, Kiarash concluded the talk by answering some of the student's questions.
How did you stand out at a huge company like JurisTech?
Kiarash shared how JurisTech enforces a culture of visibility across all levels of employees as part of its core value of 'Opening Up', where the voices of everyone are heard at any level of hierarchy. Our COO, Naaman Lee joins in to share how Kiarash's many leadership qualities have been such an inspiration to the company, with his ability to facilitate critical meetings and lead projects into success. 
"There is nothing impossible for him"  – Naaman Lee
Does JurisTech have roles for international fresh graduates?
Kiarash reassures the audience that JurisTech is a multinational company and attains the status to employ any nationality. JurisTech currently has employees who come from over 12 nationalities. However, he iterates how JurisTech doesn't look at your nationality as a criterion when recruiting, but more to your skills, abilities, and personality. 
Is CGPA important when it comes to intern applications?
Kiarash shares how CGPA is a good indicator to assess an individual's candidate performance, however, it isn't the only factor looked at in the recruitment process. Naaman also adds how CGPA gives the recruiters a sense of order and prioritisation to evaluate multiple candidates. Furthermore, CGPA shares a spectrum of a candidate's discipline in their line of work and how they would stand out from the competition. Sheryl Chong, our head of Human Resources, also adds that JurisTech always seeks out distinct qualities in candidates to add to our workforce and encourages candidates for both internship and permanent applications to present their best qualities in their CV/resume.
What motivates you to keep learning even though you are already in this work field?
Kiarash mentions how he has many motivations and one of them is his desire to constantly keep his brain sharp. He shares how he's developed a habit to always read and learn about new trends and technologies. As a result, he's found that these new learnings and findings can be applied in his line of work and be very beneficial to the company, ultimately driving new innovations across. 
At the end of the talk, the students and organisers all thanked Kiarash for sharing his inspirational journey and taking the opportunity to help them develop their careers.
Want a fulfilling and meaningful career path like our CINO? Join us today and learn more about the career opportunities we have in store for you!
About JurisTech

JurisTech (Juris Technologies) is a leading Malaysian-based fintech company, specialising in enterprise-class software solutions for banks, financial institutions, and telecommunications companies in Malaysia, Southeast Asia, and beyond.