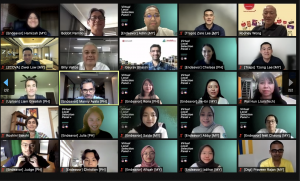 On the 23rd of September, our esteemed CEO, See Wai Hun, was cordially invited to take part as a panellist in Endeavor Malaysia's Local Selection Panel. Endeavor Malaysia is the local affiliate of the global non-profit organisation, Endeavor. Endeavor is the world's leading community of high-impact entrepreneurs. Founded in 1997, Endeavor unlocks the transformational power of entrepreneurship by selecting, supporting, and investing in the world's top founders of tech-enabled startups to help them achieve large-scale impact. Today, Endeavor's network spans nearly 40 countries and supports more than 2,000 entrepreneurs, whose companies generate combined revenues of over $28 billion, have created more than 3.9 million jobs, and, in 2020, raised over $4 billion in capital. Endeavor's unique entrepreneur-first model, peer-to-peer community, and trust-based network provides a platform for founders to dream big, scale-up, and pay it forward to the next generation.
In its efforts to scale up entrepreneurs, Endeavor Malaysia organises an ongoing selection process, where entrepreneurs apply and go through a rigorous multi-step selection process. The local selection panel is the second last stage of the selection process and at this stage, the entrepreneurs would be assessed by a panel of mentors and local board members to assess their viability and fit with Endeavor. During this phase, the entrepreneurs would need to receive unanimous approval in order to pass and move on to the final stage, the international selection panel where global business leaders interview, deliberate and select the next class of Endeavor Entrepreneurs.
The Endeavor Selection Process is no stranger for Wai Hun and our other co-founders, John and Naaman. They were selected as Endeavor Entrepreneurs themselves in 2014 at the 54th International Selection Panel in New York after climbing through all the stages in the process. For Wai Hun, the invitation to become a panellist was an exciting one as she now sits on the other side of the table evaluating companies rather than being evaluated. 
Wai Hun together with 5 other business leaders and mentors made up the star-studded panel. Her co-panellists were Rodney Wong (CEO of Munchy's), Gaurav Bhasin (CEO Malaysia and Chief Strategy Officer of Carousell Group), Roshini Bakshi (Managing Director of Everstone Capital Advisors), Billy Valtos (Managing Director of Tao Corporation),  and Bobbit Panlilio (Chairman of JP Morgans Philippines).
For this local selection panel, it featured 3 amazing companies, an automotive accessories brand company (TRAPO), an online-based diamond, gemstone and jewellery company (ZCOVA), and a fintech company (Uploan). Throughout the selection panel, intriguing and difficult questions were asked by Wai Hun and the panellists on the candidates' business scalability, growth, and future prospects. They also took the opportunity to share feedback on ways the entrepreneurs can significantly improve the operations of their businesses. Finally, after the interviews, the panellists came together to deliberate and vote on selecting the next potential Endeavor Entrepreneur.
"I was more than honoured to be invited as a panellist for Endeavor's Local Selection Panel. Having gone through the process myself, I was able to empathise with the aspiring candidates and for the first time sit in the shoes of the panellists to evaluate these amazing candidates. I wish these candidates the best in their entrepreneurial journey and wast happy to pay it forward!" – See Wai Hun
We would like to congratulate the newly selected entrepreneurs and welcome them to the Endeavor family. To find out which entrepreneurs were selected, read the full article here. 
About JurisTech

JurisTech (Juris Technologies) is a leading Malaysian-based fintech company, specialising in enterprise-class software solutions for banks, financial institutions, and telecommunications companies in Malaysia, Southeast Asia, and beyond.