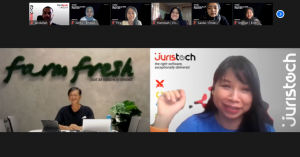 On the 1st of October 2021, Endeavor organised their final Blitzscaling Circles for the year, a bi-weekly fireside chat between entrepreneurs in conjunction with their ScaleUp Endeavor programme. Blitzscaling Circles is a series of fireside chats that includes real stories shared by the Endeavor Entrepreneur network, where the public can learn and gain insightful knowledge on fundamental topics such as business strategy planning, unit economics, business metrics, market access, data analytics, digitisation, people & culture, and fundraising.
Our very own Co-founder and CEO, See Wai Hun, who is also an Endeavor Entrepreneur was invited to moderate the session with Loi Tuan Ee, founder and managing director of the Holstein Milk Company. As a mother of two, a long-standing advocate of the brand, and also an Endeavor Entrepreneur herself, no one was more suitable than Wai Hun to moderate a more fruitful session with Loi.
Loi's path to the Holstein Milk Company began when he immersed himself in the agriculture industry back in 2007, after spending years in the corporate world, where he grew palm oil trees, dragonfruit, and reared Arowana fish on his 83-acres of land in Johor. 
After identifying a market need for all-natural dairy products, as opposed to the reconstituted products sold by Malaysian dairy brands, Loi took matters into his own hands. He purchased a small plot of land and imported 60 wholesome jersey cows from Australia, setting up his company, Farm Fresh. Today, Loi has successfully scaled the Farm Fresh brand as the market leader in all-natural and fresh dairy products in Malaysia.
During the session, Wai Hun deep-dived into unravelling several scaling strategies Loi used to grow and develop his farm into the success it is today. Loi's vision in producing all-natural dairy products stemmed after his realisation of being able to offer differentiated products seeing that 95% of dairy products on supermarket shelves were essentially the same. With that, Loi saw an opportunity to enter from a different landscape knowing his products held a competitive edge against other brands in both flavour and freshness.
"If you are going to spend effort and time to do something, you might as well build something sustainable." – Loi Tuan Ee
Moving along the session, Wai Hun also raised a few questions to understand some of the challenges Loi faced in scaling up his business. Loi explained how getting funding as a startup was not an easy feat, particularly in the period of the national feedlot scandal, which made funding on livestock much more difficult. However, Loi also shared how fortunate they were to engage with Khazanah Nasional, who at the time were supporting strategic sectors in agriculture, and played a tremendous role in helping Farm Fresh scale up.
Closing the session, Wai Hun raised some final questions to Loi from the audience and sincerely gave her gratitude for having shared such an inspirational story of his journey nurturing Farm Fresh towards its growth and success.
"I really enjoyed hosting the fireside chat with Loi Tuan Ee, this is because I am a believer in the Farm Fresh brand that Loi has created which embodied his values in creating quality consumable dairy products for the Malaysian market. The fact that a Malaysian company co-founded by him was able to capture more than 50% of the fresh milk market and overtake the foreign milk brands and capture the hearts of so many Malaysians is a testament to his ability as an entrepreneur to grow and scale a Malaysian brand. I am proud of his achievements and I myself learned a lot about scaling from this great man!" – See Wai Hun
To watch the complete session of Blitzscaling Circles, check out the recording here: https://www.youtube.com/watch?v=PkxbA_ONJFY
About JurisTech

JurisTech (Juris Technologies) is a leading Malaysian-based fintech company, specialising in enterprise-class software solutions for banks, financial institutions, and telecommunications companies in Malaysia, Southeast Asia, and beyond.