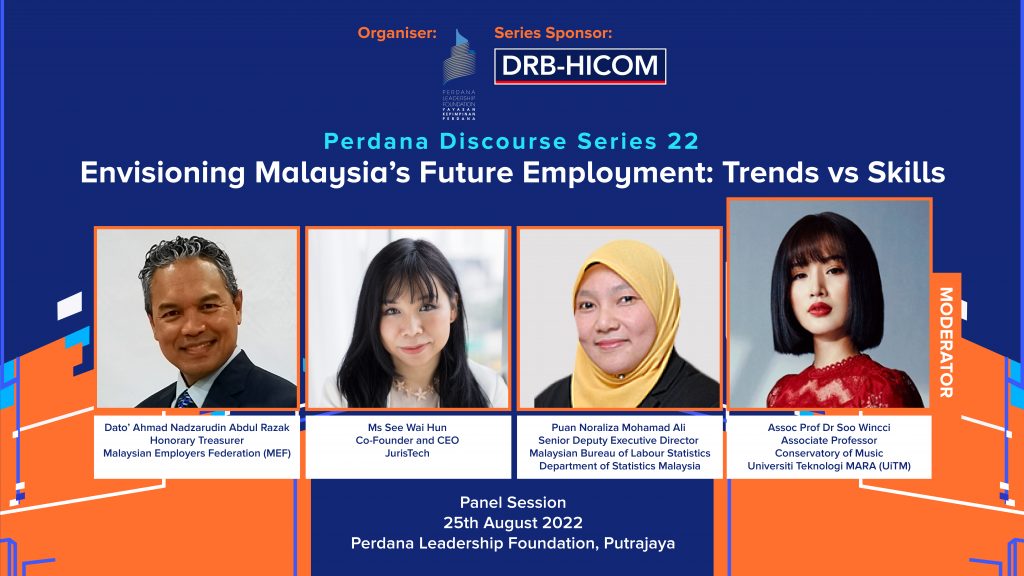 On the 25th of August, our Chief Executive Officer, See Wai Hun, was cordially invited by Perdana Leadership Foundation as a panellist in the Perdana Discourse Series 22 to shed light on the topic of 'Envisioning Malaysia's Future Employment: Trends vs Skills'. The Perdana Leadership Foundation was established in 2003 to preserve, research, and disseminate materials on, and by, Malaysia's past Prime Ministers. 
The Perdana Discourse Series is among many of the Foundation's initiatives to host intellectual discourses on unique topics that will help identify modes pertinent to resolving issues related to nation-building and developing a progressive society in Malaysia.
At the beginning of the Discourse Series, opening remarks were shared with a welcome address by YBhg Tan Sri Nik Mohamed Nik Yaacob, Executive Director, Perdana Leadership Foundation. It was followed by a keynote address by YBhg Professor Elizabeth Lee, Chief Executive Officer, of Sunway Education Group. Professor touched on many expansive works of digitalisation in the Malaysian economy sharing employment trends in Malaysia, skills aligned to the nation's development goals, and new sustainable youth development initiatives from Sunway Education Group.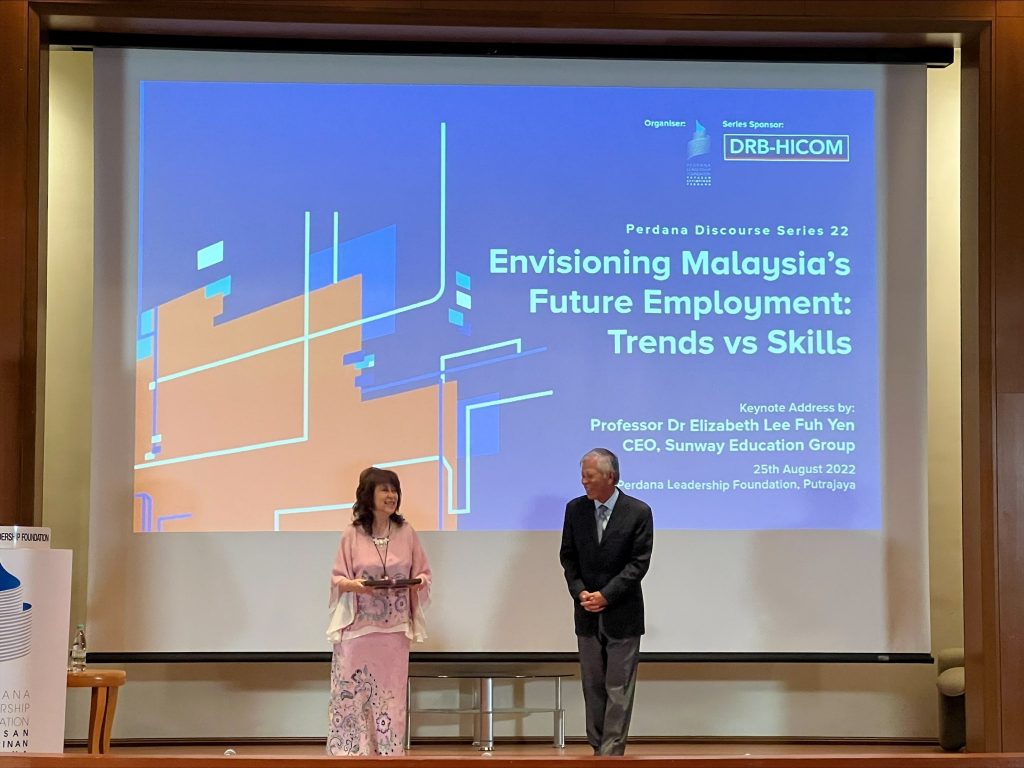 After a brief break, our CEO, See Wai Hun was invited on stage to join the panel session along with guest panel speakers, Dato' Ahmad Nadzarudin bin Abdul Razak (Honorary Treasurer, MEF), Puan Noraliza Mohamad Ali (Senior Deputy Executive Director of Employment and Unemployment Division, Malaysian Bureau of Labour Statistics), and Dr Soo Wincci (Associate Professor, UiTM) who was moderating the panel discussion.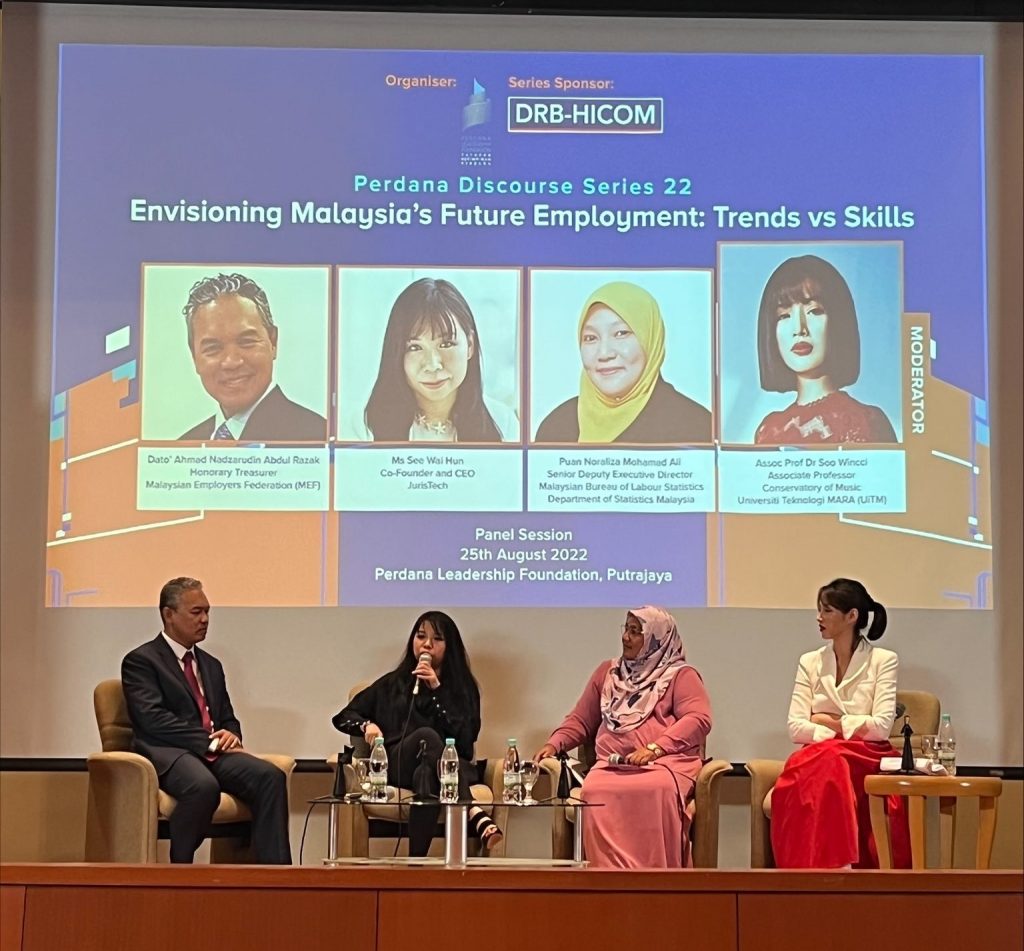 Dr Soo first opened the floor to Dato' Nadzarudin to share what the future of employment looks like for Malaysia. He dived into the topic of recent emerging trends such as the growing significance of the gig economy, the increasing importance of TVET education, new regulations over work and employment, and the decreasing importance of university education.
Wai Hun followed by sharing some of the concerns and expectations of Malaysian employers today where she touched on the growing competition for talent in Malaysia. She shared that with Malaysia's economy growing back to normal, companies have been hiring again like wildfire with unprecedented levels of outreach. She further mentions how the increase in competition has resulted in employers facing challenges in talent retention due to talent shortage. Wai Hun also adds how skilled workers with in-demand skills are slowly becoming less loyal to employers, having new visions of more flexible work roles. This poses a challenge for employers to support or facilitate new levels of growing needs e.g. upskilling training programmes and flexible working hours. 
"The workplace today should not be focused on talent retention alone, its focus should expand on the flexibility and efficiency of employees." – See Wai Hun
Wai Hun further talks about some of the expectations employers are looking for in talents. Leading a major Fintech company, Wai Hun shares the importance of acquiring various skill sets and abilities in talents to overcome different unique work challenges. She shares how the nature of JurisTech's hiring culture always seeks extraordinary talent who possess positive traits in personality, working ability, and culture adaptability. Wai Hun further emphasises how talents who display their personality traits should uphold a positive attitude and strong ambition as high achievers. Secondly, she highlights the importance of seeking potential in candidates and not just focusing on the skills they can bring to the company. Finally, she discussed the importance of candidates' ability to adapt to different company cultures to be able to fit in without any rising resistance.
Dr Soo then passes the floor to Puan Noraliza to share some of the job market insights in Malaysia. She shares how in Q1 of 2022, the job market saw an increase in job vacancies by 7.5% which equates to 191 thousand vacancies in semi-skilled and skilled jobs. She also shares statistics of 5.61 million graduates in 2021 of whom 4.57 million were employed while 197 thousand were left unemployed. She further elaborates how skill-related underemployment is not an isolated issue faced by Malaysia, wherein one-third of employment in many economies experienced similar situations.
Dr Wincci also asks Dato' Nadzarudin's view on the mismatch in expectations between graduates and the employment market. He mentions how the expectations placed upon both graduates and employers need to be able to match. In the past, he speaks on how there was a larger degree of unrealistic or even unmatched expectations between graduates and employers and how this mismatch needs to be addressed by researching how more graduates can be career ready to meet the growing expectations of the labour market.
Dr Winnci then passes the floor to Wai Hun to share her views on how Malaysia compares in work and lifestyle to its neighbouring countries. Wai Hun expresses her view on how other nations such as Singapore and Hong Kong pay salaries 2-3 times more than Malaysia, however, their living conditions are comparatively more expensive than Malaysia. She mentions how Malaysia's living conditions are relatively better than other neighbouring economies and is on a steady climb after gradually recovering from the pandemic.
Dr Soo then poses a final question to all panellists to share their views on how they perceive to see changes in the business and economic landscapes in the next five years. Wai Hun takes the floor first by sharing how the economic and global recession, resulting from the pandemic, has been creating new opportunities for economic and growth recovery. Businesses are becoming more digital-centric, remodelling their business structure to adopt more technologies to create more seamless user journeys. She also adds how the e-commerce industry has boomed over the last 2 years. In terms of the job market, she extrapolates how the rising changes for employers to retain more tech-savvy candidates should not be overlooked by graduates, and graduates should adopt a multiplier mindset to build on growing skill sets from changing demands in the job market. 
Dato' Nadzarudin adds that businesses will grow bigger in the next 5 years and at the same time self-employment will also increase. He shares that with the growing consumer market, businesses will indefinitely grow, especially with the government signing new trade market agreements internationally to access more foreign goods. Puan Noraliza finally closes by sharing how both governments and businesses should work closely and collectively to address many of the employment challenges today to provide for more inclusive and decent working conditions for the Malaysian people.
The event finally ended with a presentation of a token of appreciation to the moderator and panellists by YBhg Tan Sri Nik Mohamed Nik Yaacob for attending the Perdana Discourse Series 22, following a fruitful Q&A session.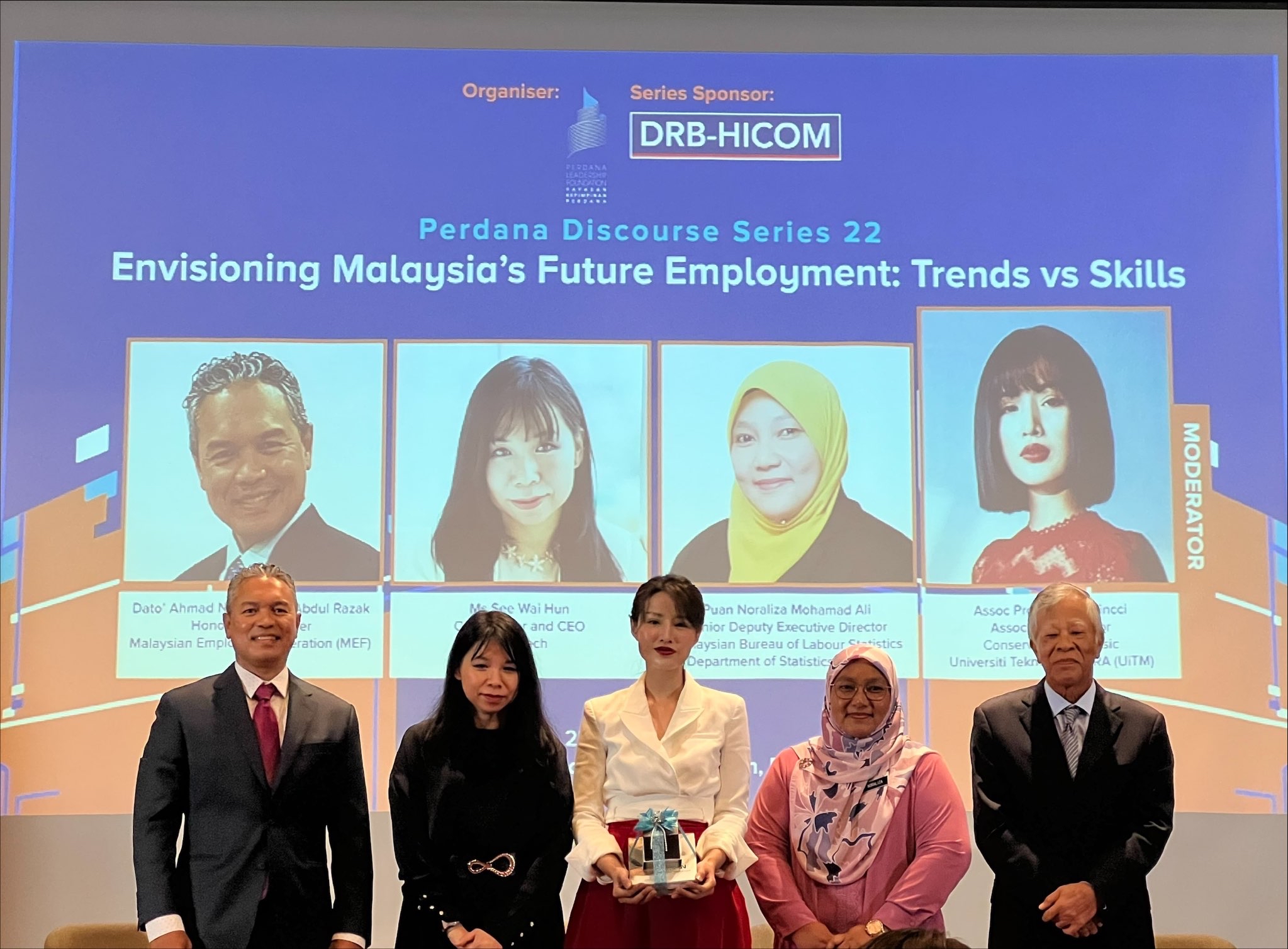 Interested in kick-starting your career at JurisTech? Check out and apply to some of the amazing positions we have for you on our Career page!
About JurisTech

JurisTech is a leading Malaysian-based Fintech company, specialising in enterprise-class software solutions for banks, financial institutions, and telecommunications companies in Malaysia, Southeast Asia, and beyond.