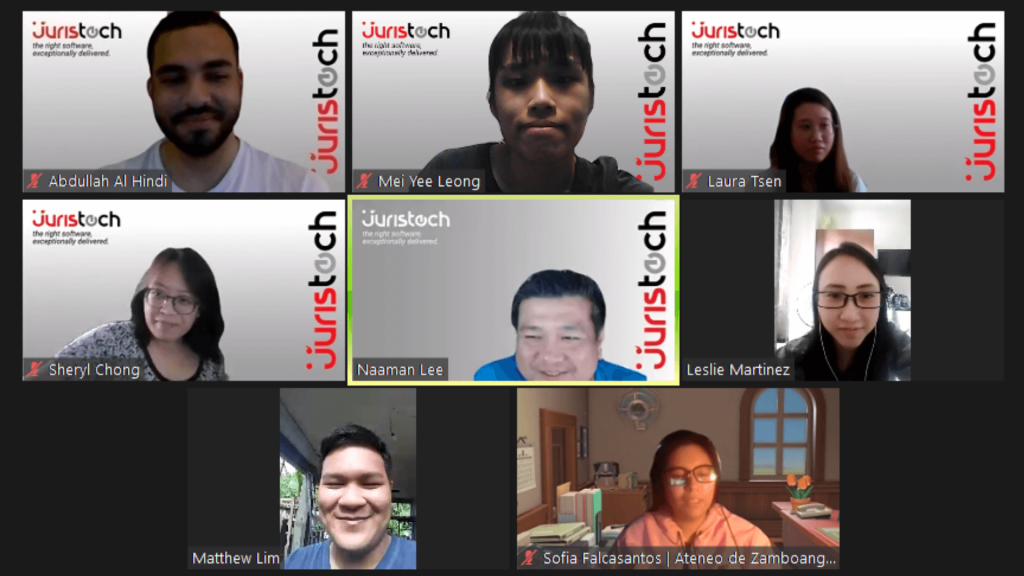 On the 2nd of April 2022, our Chief Operating Officer, Naaman Lee was invited to a virtual career talk at Ateneo de Zamboanga University in the Philippines to shed light on some of our career prospects and the astounding benefits graduates can expect when joining JurisTech. The attendees were final year students with engineering and computer science backgrounds. 
After a fun ice-breaking session with the students, Naaman walked through the history of JurisTech and how it had grown to become the leading Fintech company in Malaysia over a span of 25 years. He also shared how JurisTech had expanded its operations in the Philippines after acquiring iMoney, a leading personal finance company in 2020. Not only does iMoney have a presence in Malaysia, but they also have a presence in the Philippines. Naaman shares that this has become an opportunity for JurisTech to also recruit from the Philippines, who will work remotely without the need to travel to Malaysia.
Furthermore, Naaman shares how JurisTech's culture was built on four important core values namely, Growing Heroes, Making Excellence Happen, Customer First, and Opening Up, or GECO for short. These values resonate across the company and are incorporated into our work environment from office wall prints to monthly comics, to continuously resound these values across all our business units and employees. Furthermore, Naaman shares the conducive working environment the students can expect to work in where they would be nurtured by some of our amazing leaders who would build your pillars towards a successful career.
Naaman then moves on to share how students can kickstart their professions as either software engineers or business analysts. He mentions how important these positions are at JurisTech as a software company that continuously drives to deliver some of the best performance software in the financial industry. Naaman also reassures the students how they can join JurisTech without having any technical background. Newly hired employees would generally go through a 2-week intensive training by our Heroes Training Academy (HTA) where they would be equipped with the necessary technical skillsets to kickstart their careers.
At the end of the talk, Naaman shares some valuable advice to the students on how they can successfully land a job from building solid résumés and digital profiles to sharing interview best practices and methods. The talk then ended in a fruitful Q&A session with the students to learn more about JurisTech's career prospects. 
Interested in kickstarting your career at JurisTech? Check out and apply to some of the amazing positions we have for you on our Join Us page!
About JurisTech

JurisTech is a leading Malaysian-based Fintech company, specialising in enterprise-class software solutions for banks, financial institutions, and telecommunications companies in Malaysia, Southeast Asia, and beyond.