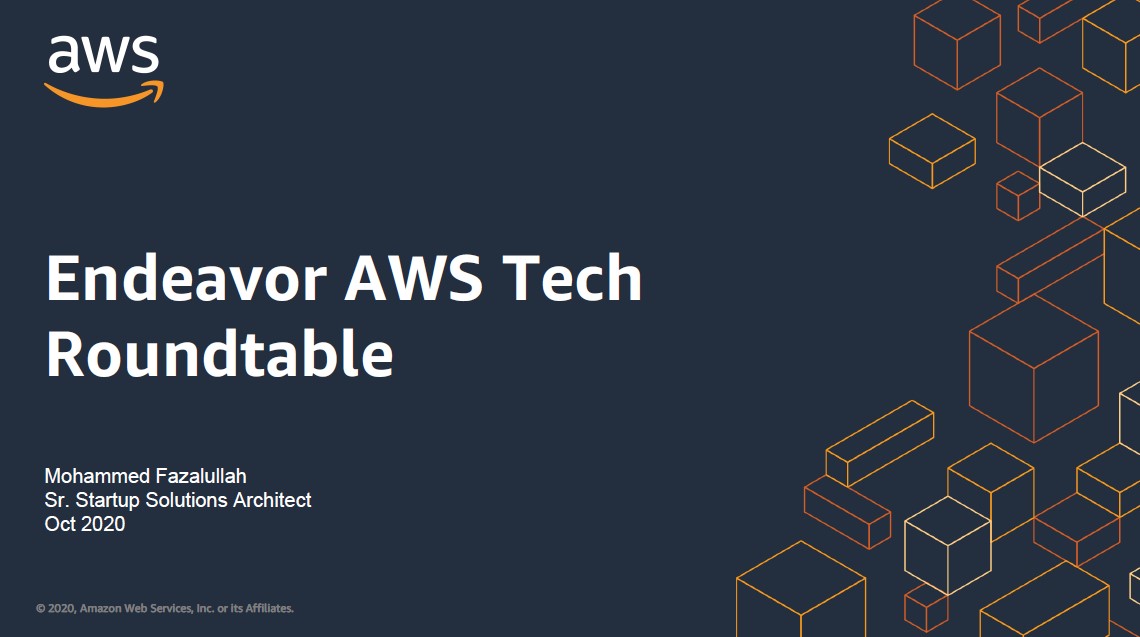 On 15 October 2020, Endeavor collaborated with Amazon Web Services (AWS) to organise the Endeavor AWS Tech Roundtable aiming to answer the ultimate question of how should tech leaders think about managing products, tech operations, and teams?
Specifically targeting entrepreneurs (from both tech or non-tech backgrounds) that are running tech-demanding businesses, the event garnered over 50 participants to hear the exchange of panellists with diverse perspectives, knowledge, and backgrounds.
The event was separated into two 90-minute roundtable discussion sessions as stated below:
Roundtable session 1: Decoding Tech Operations: Product Development Style, Innovation Practices, and Stakeholder Management
Panel speakers:
Yeoh Chen Chow (Co-founder, Fave)

Leow Wee Jonn (CEO, Photobook Worldwide)

Advent Phang (Co-founder & CTO, HealthMetrics)
Roundtable session 2: Leading Tech Teams: Team Configuration, Decision-making, and Leadership
Panel speakers:
Naaman Lee (COO, JurisTech)

Ron Ramanan (Co-founder & CEO, GoQuo)

Heinrich Wendel (Co-founder & CPO/CTO, iPrice)
Both sessions were moderated by Mohammed Fazalullah (Faz), Senior Solution Architect of AWS Malaysia who often speaks in and around Malaysia on current trends in the technology space, enabling people to understand the value of cloud computing platforms and helping them in their digital transformation journey.
Through the immensely insightful and practical virtual roundtable discussions, we were all very privileged to hear from the elite and distinguished panellists discussing their tech challenges and best practices from various industries. There were many topics discussed during the two sessions but I would like to highlight a few of those by the panellists.
Now, let's dive right in.
How does a product team construct a minimum viable product (MVP)? What are the tools or methods used?
According to Wikipedia, an MVP is a version of a product with just enough features to satisfy early customers and provide feedback for future product development.
Wee Jonn, who leads the largest online photo company in Southeast Asia, mentioned how his product team will tell a very high-level story of what they want to achieve but also to drill it down to the details of what they really want in their product. He said that an MVP can be something super-basic, but you need to think about what are the key features that will make this product tick. His view is that a fair minimum of the MVP should capture the essence of what you are trying to build and launch.
Chen Chow, who is the co-founder of a digital merchant platform called Fave, highlighted the importance of having clear metrics and KPIs that one would like the product to achieve as a point of consideration. Metrics or KPIs such as revenue, gross profit, or even the number of transactions should be agreed upon by both the business and product teams before any development takes place. We do not want to be building something that does not have a complete buy-in from all involved parties.
Advent Phang, who is an analytical software engineer himself, spoke about how we should go through an elimination process by drawing circles around items we want to build, and then try to understand what the core products are. This is so that we can identify the products we need to focus on.
What are the tradeoffs one would make between cost, quality, and time when building a product?

Image: The "Scope Triangle" or the "Quality Triangle"It makes you really ponder what are the tradeoffs you would make between cost, quality, and time when building a product because you cannot expect to produce a good quality product in a short period of time and at a low cost. It just doesn't work economically!
According to Wee Jonn, in the early days of Photobook, the cost was the main factor, as they were growing the business with little-to-no external investments. However, as the company grew, the quality was heavily emphasised. He mentioned that there has been a mindset shift in the company throughout the years. In the past, they believe that the quality of existing features supersede the quality of new features. This is because loyal users would probably be able to highlight the changes in existing features almost immediately, for better or worse, whereas the company probably gets away easily with new features that are lower in quality since it takes a longer time for adoption. This naturally creates an illusion to the team that it's okay to not do well when the new feature is launched to the market. Hence, Wee Jonn is of the opinion that this no longer is an accurate mindset as it may bring damage to new features and the company's ability to innovate. He spoke about how it is now a balancing act where one has to consider all criteria before launching a product.
For Chen Chow, his opinion is that speed can be controlled and the cost is usually driven by the number of resources needed. He mentioned how they would first identify a potential launch date, then scope the effort of work by total person-days, and identify the potential bottlenecks of the entire process. Once the fundamentals are ready, then, they would allocate different parts to different engineering teams in order to build the product in time for the launch date. He also highlighted the importance of quality assurance and how one should balance all three factors – cost, time, and quality. To tackle this question, AWS has a product development approach known as "working backwards" where the team imagines the product as to how it will be when it is ready to ship. This approach is to get clarity on what you want to build and not document what you have already decided to do. The approach comprises asking oneself the following questions. Who is your customer? What is the customer's problem or opportunity? What is the most important value proposition that you can offer? How do you know what your customer needs or wants? What does the experience look like? The answers to these questions will help you identify which tradeoffs to make.
At what point does one decide to kill a product off?
Well, then I guess we should ask ourselves why did we build the product in the first place? What's our company's strategy in building this product? Every time we build a product, we should think about whether it is the right product for our customers. As long as you have the data and insights to back it up, and if you think it will be viable in the coming months, then continue working on it. However, if you are not able to point to the problem it is trying to solve, or even create something that people care about enough to pay you for it, then kill the product and start over.
It is easy to kill off products especially if the numbers are not there to back up the product. However, the leadership team needs to recognise that there can be a huge load of emotional investment that would negate the decision to kill a product. This will, no doubt, be a tough call to make.
Needless to say, you definitely will need to do your homework by gathering sufficient data for each product or service offering to evaluate if the unit economics makes sense. You could even take a step further by setting up monthly meetings with the leadership team to evaluate the product and set guidelines to determine the product lifespan.
How does the product and engineering team get feedback from customers using your product?
Customer feedback is very crucial in a product development life cycle because that is where the alignment happens – between product innovation, and the customer's current and future needs.
For Advent, they segment their users into three categories – corporate HR, service providers, and employees. The team would directly email or call the users to collect feedback, which they then analyse and identify areas that need to be improved. They also rely on their customer success team to provide candid opinions on the system.
Chen Chow spoke about how they have a designated product design team who does customer or merchant interviews to understand specific processes.
Wee Jonn also brought up how leadership plays an important part in creating a vision for their product. A leader's job requires them to expose themselves and understand what is going on in the market. It is important to understand key trends and synthesise it into product development.
Being able to collect feedback from customers is good. But the way you utilise and leverage the feedback will allow you to create a product that matters.
How to create a product roadmap or an engineering roadmap?
So what is an engineering roadmap or a product roadmap? It is a detailed plan that includes both short-term and long-term product or business goals – a plan with ways to achieve it with specific technology solutions.
The roadmap can be developed for a new or existing product and it helps give software engineers the bigger picture so that as a company, they can make better decisions. For instance, planning out strategic initiatives into the future, such as migration from legacy systems to new technologies, and rolling out software updates.
As a tech company, it is also important to assess your own technology capabilities, current trends in technology, and your resources at hand, while planning the roadmap.
Firstly, define your product roadmap as it acts as a guiding framework and basis of the entire product life cycle. What problems would the product be able to solve? How can it stand out from the competition? Then, identify and prioritise key activities, making them visible to stakeholders. Lastly, assign milestones and set a time frame against each key activity. The timeline should be realistic and aligned with the company's overall strategy. For example, you can break your long-term goals into short sprints. That way, you will remain agile because things always change.
"In the product team, we have a structured approach to product releases, and the product is prioritised based on the demands and needs of the client and project," Naaman, COO of JurisTech.
At JurisTech, we strongly believe in building products that fulfill customer needs and solve customers' pain points. Naaman spoke about how the product roadmap takes into consideration the demands of the clients. He highlighted how a feature demanded by multiple clients will have a higher priority in the roadmap as this reflects the importance of that feature.
Heinrich, who leads the product roadmap for a price comparison site, added that he runs a two-week sprint cycle to constantly realign his project teams to streamline all the processes. They also adopt the objectives and key results (OKRs) framework in their way of work. He emphasised the importance of taking a step back to look at the OKRs for the next term.
Having a roadmap allows you to communicate the product vision internally and externally. The value it gives is that, not only does it help you identify the level of investment required to deliver a functional product in the specified period, but it also acts as a strong foundation for the future of the product. The process of creating a roadmap is crucial and complicated at the same time, but a compelling product roadmap or engineering roadmap should be accurate, realistic, and holistic.
What are the strategies for reskilling and upskilling the workforce?
According to the World Economic Forum, it is estimated that over half of all employees (54%) will require reskilling and upskilling by 2022, due to the new technological advances, and new ways of working with machines and algorithms, to meet the demands of demographic shifts and economic changes.
The strategies for reskilling and upskilling the workforce will require investment. At JurisTech, we have our learning and development (L&D) team also known as the Heroes Training Academy (HTA). HTA has created a structured learning course dedicated to sharpening skills and accelerating the development of all JurisTech professionals. From onboarding employees to growing subject-matter experts, their vision is to maximise and unleash employees' potential for the present and future growth and success of the company.
Ron, who is in the business of developing online booking platforms for airline industries, mentioned how his company has smaller team sizes and peer-to-peer sessions to create a close-knit community for sharing. He mentioned how they placed employees' requests for taking upskilling courses seriously, and funded them if needed, to encourage them to grow in their careers.
For this matter, Heinrich explained how important it is to understand the way each individual feels about their current roles and responsibilities, and to rotate them in different projects with the objective to expose them to different technologies and teams.
Have a team of people that like autonomy or ones who like to be instructed?
Being able to distinguish the different employee working styles allows leaders to leverage on it, to encourage employees to achieve their targets in their own ways. However, effective autonomy empowers employees to tap into the meaning that underlies their work, giving them greater ownership of the things they are doing.
"We can't have people expecting orders all the time," said Ron. You don't want people who want to be spoon-fed all the time.
Naaman supported his point and mentioned how he prefers the type to have their own autonomy. However, if they start out as fresh graduates, they will need a little grooming before they can have complete autonomy.
"At one point during their career growth, they have to grow out of being instructed and try to lead into working autonomously." – Naaman
As Steve Jobs once said, "It doesn't make sense to hire smart people and tell them what to do; we hire smart people so they can tell us what to do."
What sort of culture is cultivated in the company?
"Culture is a default set of thinking, actions, and behaviours that people in the organisation perform." – Naaman
'Every country, organisation, and even family, has its own set of culture. The question is not whether there is culture, but whether you are nurturing a good culture, or a bad one?'
At JurisTech, we take culture seriously and the things that we do are a reflection of our culture. We want to hire culture-fit people because culture-fit hiring ensures congruence between the candidate and the values and norms of the business. For example, when we hire fresh graduates, we look at their CGPA and their competencies, as we believe that CGPA can reflect one's commitment and determination.
"Culture is hugely important, especially for a company that is operating regionally where we have many employees coming from different countries." – Heinrich
A tech team with a strong culture provides identity and direction to its team members as their needs and values are consistent with the entire team.
Last but not least, how should tech leaders think and lead?
The core responsibilities of a tech leader are that he/she needs to possess technical expertise, provide guidance to the team, and have the ability to innovate.
The trick is to always ask "why?" It is of utmost importance that you need to know the "why" behind everything you are involved in, from understanding product requirements to the different technologies used, even if you were not part of the decision-making process. In order to have your team buy into the bigger picture, ensure that everyone else also understands the "why" in the "what".
It is evident that a tech leader also requires vision and foresight. Vision keeps people heading in the right direction. Being able to anticipate the needs of your team or the company keeps it relevant and competitive, and motivates people to work towards achieving tough goals.
Clearly, as a tech lead, you will need to know your team dynamics. There is no one great formula or one-size-fits-all approach. Each team, each company has different sets of challenges and culture. So put on a leadership style that reflects your team!
About Endeavor

Endeavor is a mission-driven, global organisation leading the high-impact entrepreneurship movement. Endeavor was founded on the belief that job creation, innovation, and overall prosperity flourish where there is robust support for high-impact entrepreneurs.

About AWS

Amazon Web Services (AWS) is the world's most comprehensive and broadly adopted cloud platform, offering over 175 fully featured services from data centres globally. Millions of customers – including the fastest-growing startups, largest enterprises, and leading government agencies – are using AWS to lower costs, become more agile, and innovate faster.

About JurisTech

JurisTech (Juris Technologies) is a leading Malaysian-based fintech company, specialising in enterprise-class software solutions for banks, financial institutions, and telecommunications companies in Malaysia, Southeast Asia, and beyond.