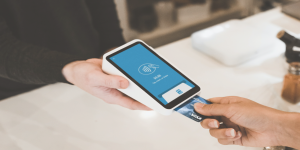 Image credit: Unsplash
Almost two years after the world's first come to a halt due to COVID-19, digital transformation has definitely sped up beyond the pre-crisis projection made by many consulting firms and companies. According to McKinsey & Company, the availability of tech-enabled products is becoming common now, with a shocking 7 years of tech acceleration in the first few months since the pandemic hit. Employees also cited an average of a short 11 days of new technology implementation at work comparing to the 1-year implementation time frame previously.
The pandemic effect
 There has been a shift in the Fintech industry's behaviour as well, with the public fast becoming weary of the pandemic affecting their life. Consumers now prioritise companies with tech-enabled products to fulfil their demands, starting with an increase in the shift from cash to digital currencies. Besides, there is also a significant growth in the digital onboarding process; the result of a sharp decline in brick and mortar operation. This has definitely sped up the rapid growth of Fintech; starting with many businesses shift on the tech budget to consumerism's changing trend.
80% of businesses also reported their customer interaction being mostly digital in nature. Companies now pay a lot of attention to consumerism demands and adjust their business models accordingly to accommodate this; from a fully digital financial ecosystem, improvising digital onboarding processes to enabling digital payments for consumers. 
Fintech acceleration: a matter of survival
A major obstacle for businesses is to implement new technology gradually to allow customers to cope with the changes. Although the pandemic forced a major halt on brick and mortar operations, many online transactions picked up when the pandemic peaked. However, this comes with a barrage of complaints from the consumer's side; many citing the inefficient buying process and the lack of customer service support from businesses to accommodate their needs. 
Companies now realise more than ever the importance of matching their tech acceleration to consumer's needs. One look at how digital payments grew exponentially in the South East Asia region in 2020 describes how consumers are heavily reliant on this technology to combat the spread of COVID-19. Products are now being developed and geared towards being digital rather than cash-reliant; where Fintech acceleration is now a matter of survival. 
When the pandemic hit, customer acquisition has been a major concern for businesses, with many struggling to keep their brick and mortar operations afloat. Since then, many have opted to accelerate their digital transformation, starting with digital onboarding playing a prominent role in this, providing a direct engagement from brands to customers. 
As tech literacy climbs, so is the demand for more digitally enabled products. The fear of COVID-19 spread has transformed how customers viewed payment processes; with e-wallet and online banking taking precedence over physical cash transactions. This amped up the wonders of digital transformation; as a new range of tech-enabled products are quickly rolled out to fulfil consumerism needs.
Besides, many companies now prioritise their online operations and constant monitoring of customer engagement to predict the best way to boost their sales growth. This is where the market for AI-powered analytics becomes the forefront runner. Companies evaluated their existing system to see which area to improvise in order to allow a better understanding of their target audience.   
It's a digital revolution, not a transformation anymore
Seeing how businesses are now rapidly adapting to the new norm, it's not a small wonder how tech transformation was not a top priority before.
"At the beginning of the year, 67% of CEOs expressed concerns about migrating all of their business to the cloud. The pandemic, by forcing everybody to embrace digital technologies, has largely erased the previous hesitation."
Nevertheless, the pandemic has definitely been the catalyst for the major changes in not only the Fintech industry, but also the tech world in general. Multiple industries are now changing towards digitising their operations to fulfil consumer demand and break the chain of COVID-19. The benefits are said to grow vertically in the long-term projection and are definitely here to stay.
Looking to transform your business with end-to-end digital solutions? Check out these three products (Juris Access, Juris Mindcraft and Juris Spectrum) from JurisTech to fulfil the need for your consumers along by revolutionising how a business operates.