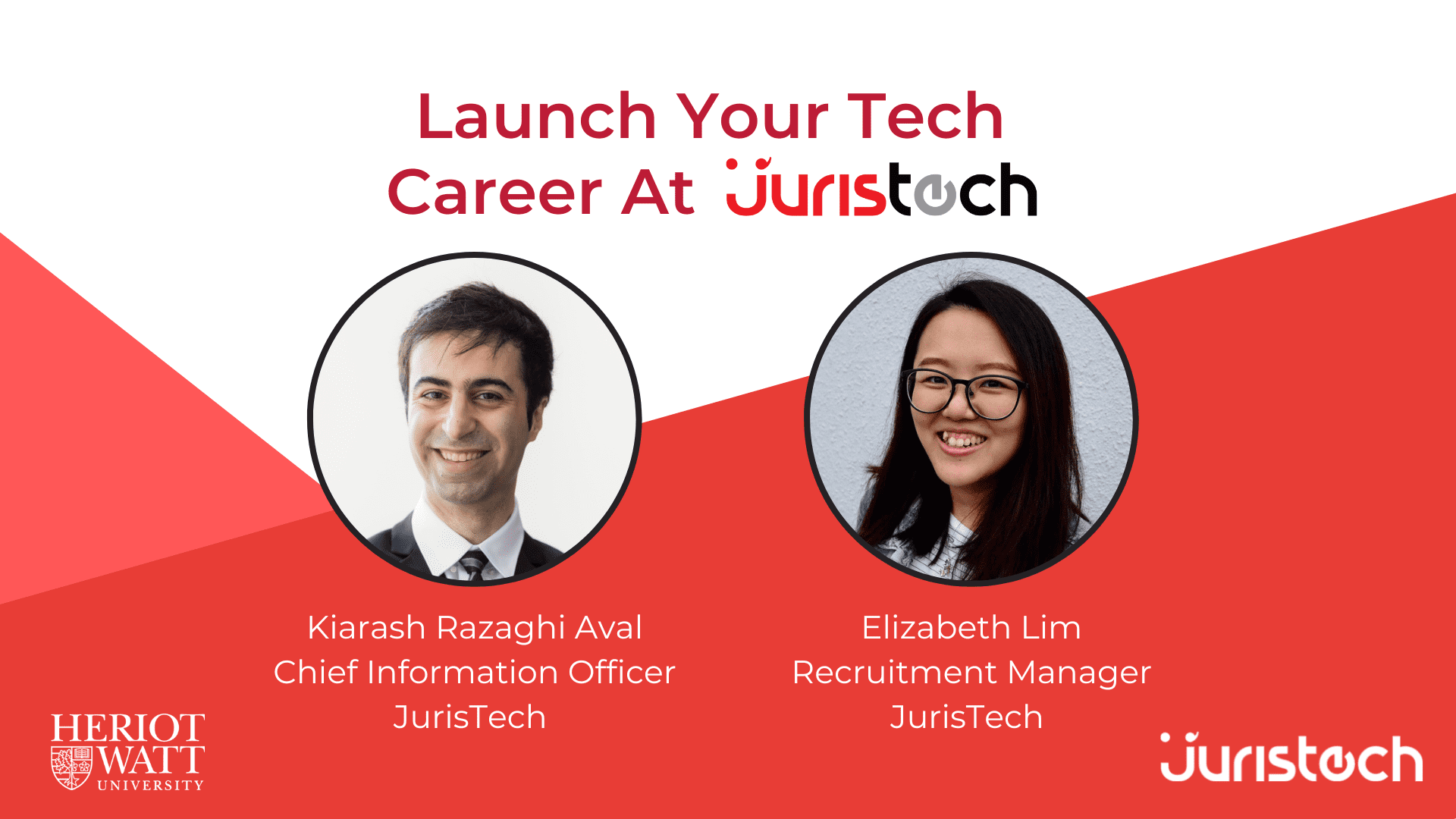 On 30th November, 30 students from Heriot-Watt University were welcomed to JurisTech's office for an introductory session about our company and were also given a fun office tour. The students came from various backgrounds in Computer Science, Statistical Data, Finance, and Business. Our Chief Information Officer, Kiarash Razaghi Aval, and Recruitment Manager, Elizabeth Lim gave a fruitful talk to the students on how they can launch their tech career at JurisTech.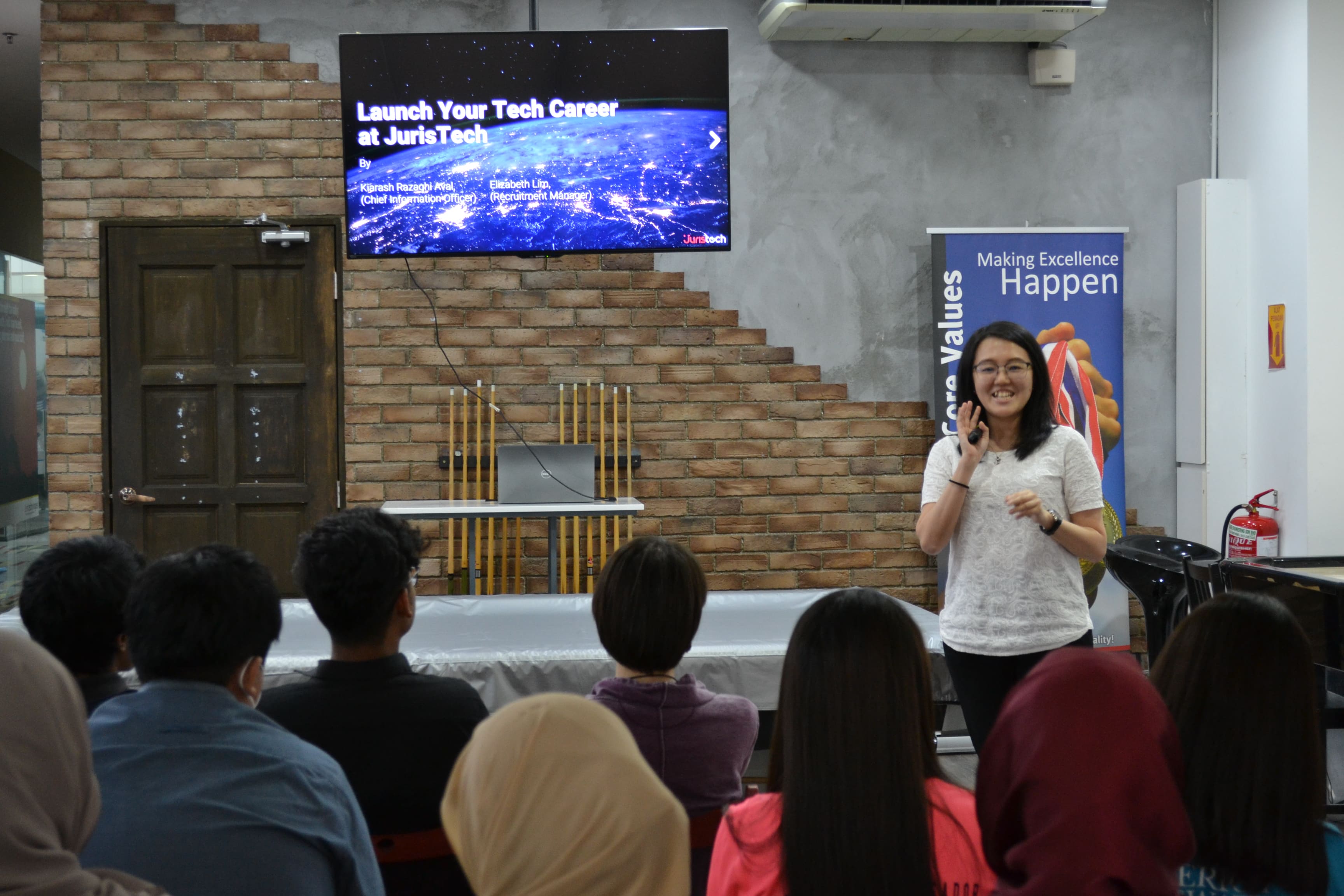 After welcoming the students into our office, Elizabeth kickstarted the talk with a fun icebreaking session with the students where a number of prizes were also handed out. She then moved to shared more about our company, gave a brief insight to students on the history of JurisTech, and how it came to be one of the fastest-growing Fintech companies in Malaysia. She mentioned how JurisTech have achieved several awards and milestones over the past two decades from when it was first founded in 1997 by CEO, See Wai Hun, and CTO, John Lim. Today, JurisTech stands tall and mighty offering a range of the best software solutions to banks and financial institutions with a presence in nine countries.
Elizabeth further shed light on JurisTech's culture and how we incorporate four important core values across the company namely, Growing Heroes, Making Excellence Happen, Customer First, Opening Up, or GECO in short. These values are embedded at the heart of JurisTech and are practised by our employees to foster better working relationships, build conducive working environments, and set exemplary standards in all lines of work responsibilities. 
Elizabeth also shared how JurisTech harbours a work-life balance culture where employees can enjoy the many facilities provided in our office space, from enjoying a nice cup of coffee at our coffee bar, indulging in a number of games in our entertainment zone, or just kicking it back at our 'Heroes Corner' where employees can rest, play board games, or even have friendly chats with one another. She also mentioned how employees can enjoy flexible working hours coming to the office anytime between 7 am – 11 am as long as they adhere to a 9-hour work schedule.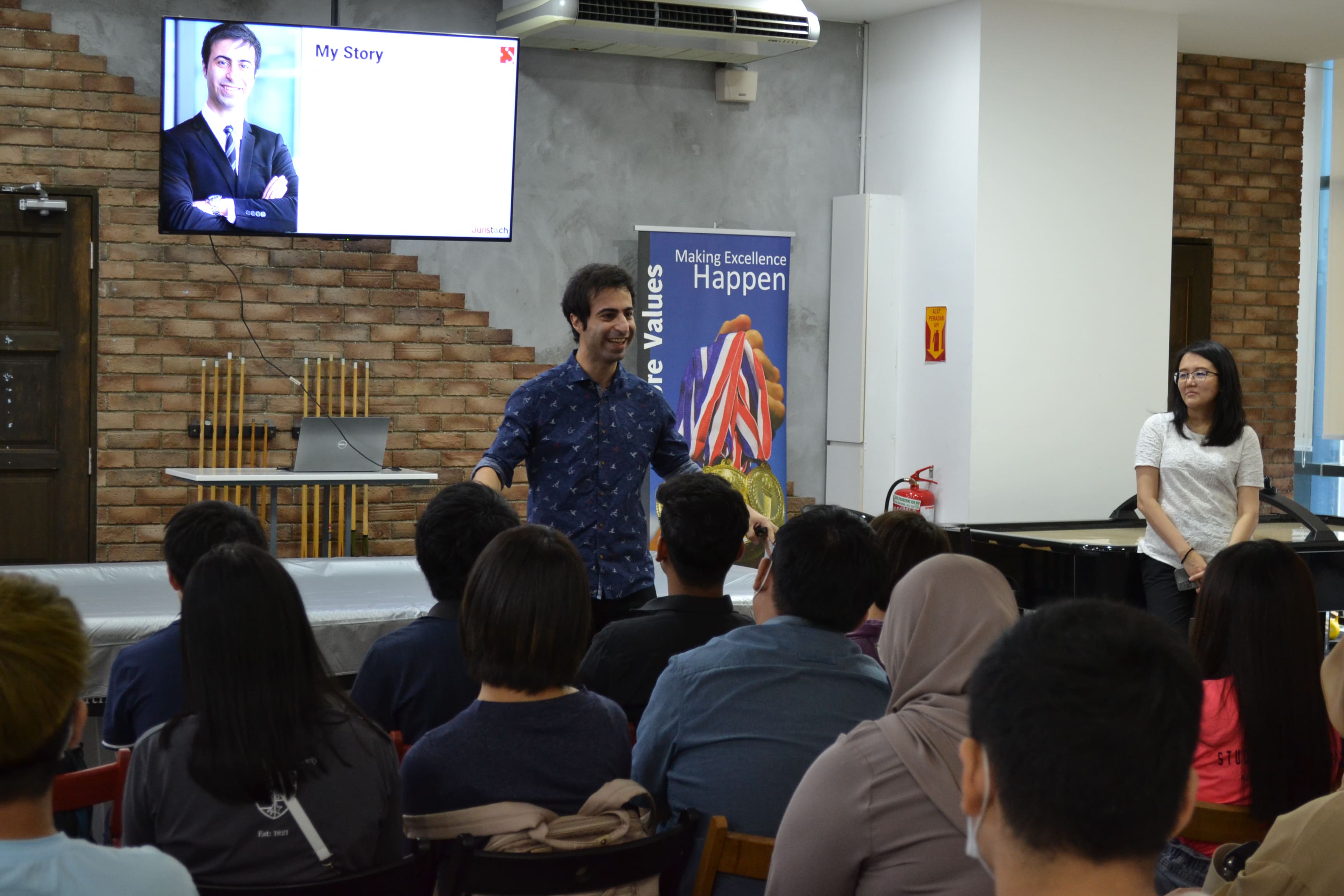 Kiarash then took the stage to share his career journey at JurisTech. He shared how he came from humble beginnings as a graduand of Multimedia University in 2012 searching for internship opportunities when he first got approached by JurisTech at a campus career fair. Little did he know, he was approached by the CEO of JurisTech, See Wai Hun, and later was offered an internship position as a software engineer. Throughout the years, he grew from being a Junior Developer, Technical Lead, and Head of R&D, rising to upper management positions as a Chief Innovation Officer and currently standing as Chief Information Officer. He shared how he experienced an abundance of knowledge and new practices working in the tech industry while also developing opportunities for JurisTech to lead the industry.
Kiarash then dived deeper to share the dynamic career life of software engineers at JurisTech. He mentions them as individuals who can develop both client and server software, while continuously expanding their knowledge, design skills, and understanding in a variety of fields such as front-end, back-end, databases, and CI/CD to create effective software that delivers value to customers.
Kiarash continued to share the critical roles software engineers play at JurisTech as problem solvers and software architects, who design and develop solutions to meet clients' expectations. They also act as consultants, using their in-depth technical knowledge to work with multiple stakeholders such as the development team, supporting units, management team, clients, and 3rd-party vendors. Kiarash shared how software engineers' efforts to work with multiple stakeholders help to create feasible and effective solutions while contributing to many areas from ideation to implementation, deployment and support. 
Furthermore, Kiarash shared the growing career paths of software engineers when they first join as a Junior Developer and grow to become a Technical Architect (as shown in the image below).

Kiarash then ends his talk by sharing insightful career advice with the students on how they can ace their technical interviews with the following points:
Carry a confident personality and be honest about what you don't know
Show a passion for continuous learning
Be a team player, someone that is easy to work with
Show strong and fundamental technical understanding
At the end of the talk, the students were given a fun office tour to see in person how JurisTech operates in different units, connecting the roles and functions of different experts to create holistic solutions for our clients.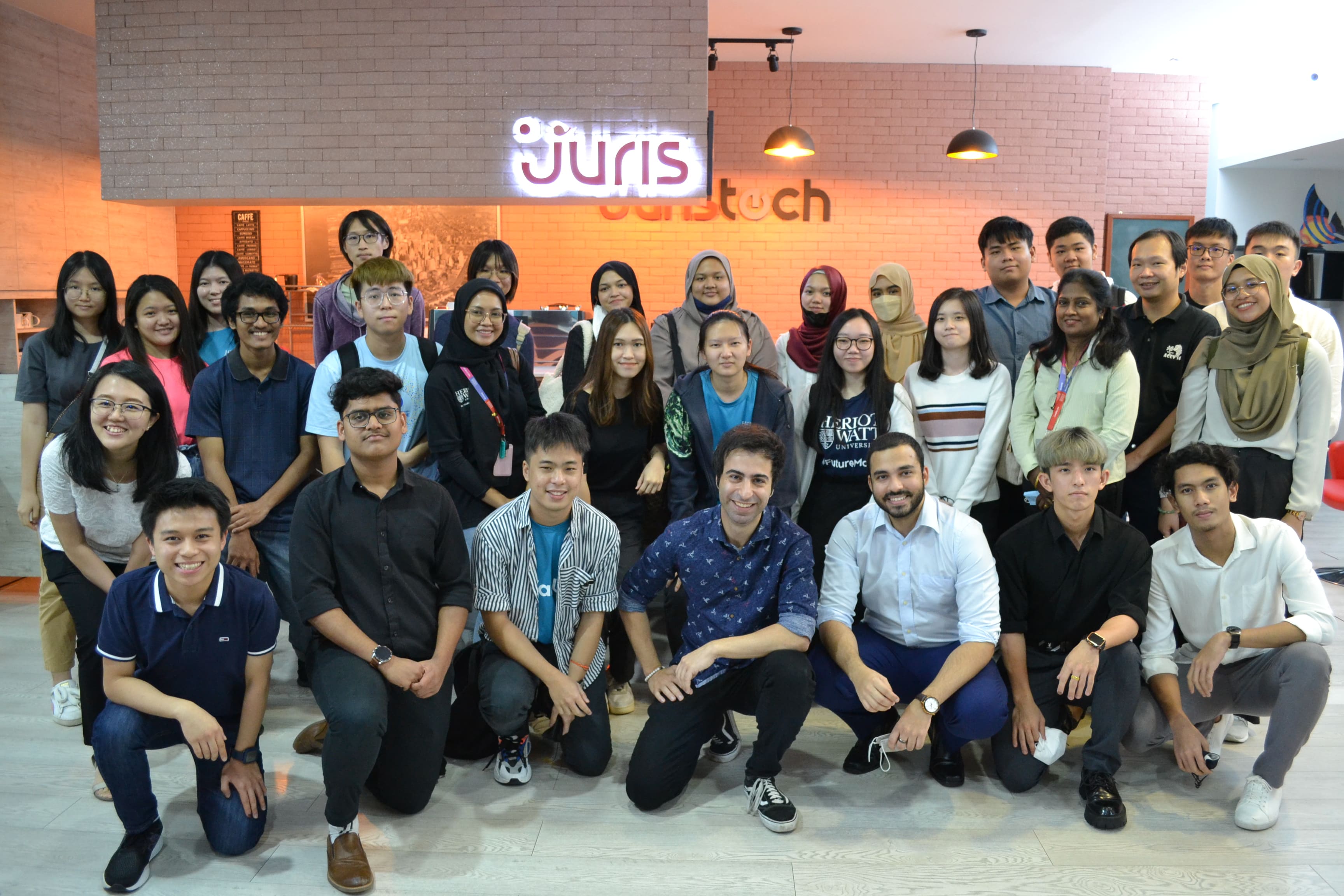 Interested in kick-starting your career at JurisTech? Check out and apply to some of the amazing positions we have for you on our Career page!
About JurisTech
JurisTech is a leading Malaysian-based Fintech company, specialising in enterprise-class software solutions for banks, financial institutions, and telecommunications companies in Malaysia, Southeast Asia, and beyond.