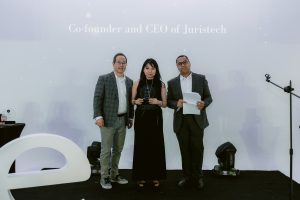 credit: Endeavor Malaysia
We are proud to announce that our CEO, See Wai Hun, has been awarded EndeavHER Endeavor Entrepreneur Mentor Of The Year by Endeavor Malaysia. 
Held at Metal Studio by Metal Bees, the event was attended by Endeavor board members and partners, along with participating organisation members across all industries. The event started with a welcoming speech by Brahmal Vasudevan, founder and CEO of Creador, and chairman of Endeavor Malaysia, followed by a pre-recorded speech by Linda Rottenberg, Endeavor Global's Co-founder and CEO.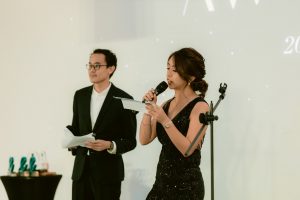 The emcees of the event, Neil Chong and Nurshaffira Izzad from Endeavor Malaysia
The event was hosted by Neil Cheong and Nurshaffira Izzad, staff members of Endeavor Malaysia; celebrating the success and achievements of local Malaysian's entrepreneurs. Wai Hun has been awarded the award to celebrate her active role and contribution to the Fintech industry. As one of the first few Endeavor Entrepreneurs to pass the International Selection Panel (ISP) in 2014, Wai Hun is also known to go the extra length to support the goals of Endeavor in mentoring young entrepreneurs and supporting Endeavor's mission.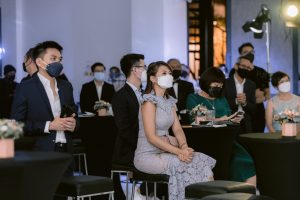 Attendees listening in to the welcome speech by Endeavor Malaysia's chairman
As a CEO for a tech company. Wai Hun has been a strong advocate for female empowerment in the tech industry and has spoken multiple times of the importance of growing and encouraging female leaders. In 2021, Endeavor was invited Wai Hun to moderate one of their signature webinars, the Blitzscaling Circle, where she hosted a session with Loi Tuan Ee (also known as Uncle Loi), the founder of Farm Fresh, a Malaysian dairy brand going places with their outstanding growth. This year also marked Wai Hun's first year as a panellist for the Local Selection Panel for Endeavor Entrepreneur Track, a programme that matches mentors with young entrepreneurs to guide them in scaling up their business. 
The event also celebrated the achievements of other local entrepreneurs; 
Rodney Wong, CEO of Munchy's, for Mentor of The Year

Rafiq Razali, Group Managing Director at Media Prima Berhad for Rising Mentor of The Year 

Anthony Low, formerly from Nestle Malaysia for Distinguished Mentor of The Year

Fadzarudin Anuar, founder and CEO of Fashion Valet, for Endeavor Entrepreneur Mentor Of The Year Award

Eric Cheng, co-founder and CEO of Carsome, for High-Impact Endeavor Entrepreneur Of The Year
This award certainly marked the outstanding achievements of Wai Hun as a female leader and an entrepreneur. We at JurisTech are proud to stand behind her as we grow as one entity in the Fintech industry led by an extraordinary leader. 
About JurisTech

JurisTech (Juris Technologies) is a leading Malaysian-based fintech company, specialising in enterprise-class software solutions for banks, financial institutions, and telecommunications companies in Malaysia, Southeast Asia, and beyond.