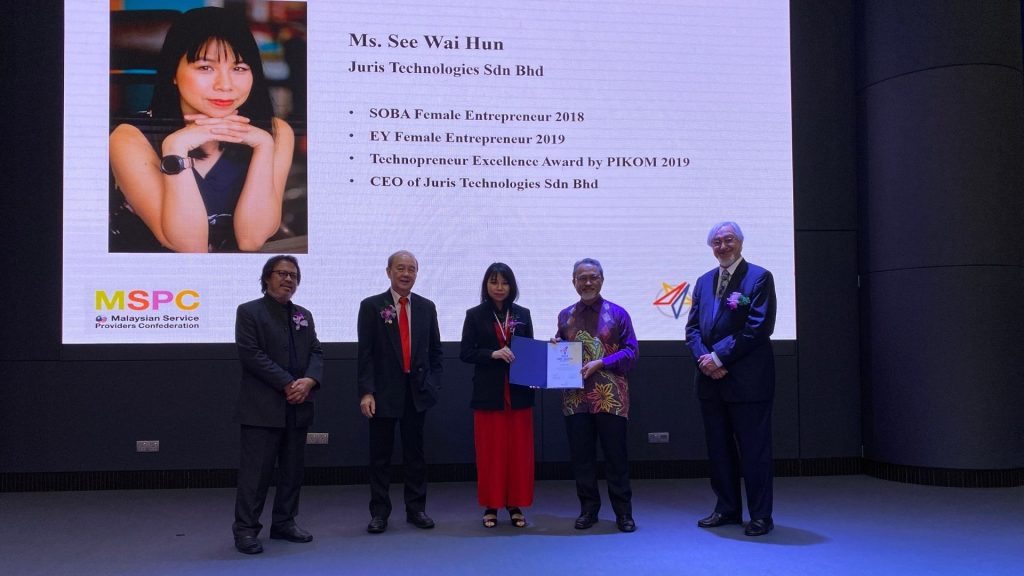 Wrapping up the year with a bang! This is truly a testament to JurisTech fulfilling its vision in creating amazing solutions, to build and enrich lives. Once again, being recognised and applauded for our great work in the financial industry in Malaysia. We are proud of all the milestones we achieved this year that have impacted so many people.
On 18th December 2021, in her smart yet elegant business attire, our phenomenal CEO See Wai Hun received the MSPC SME Icon Recognition Award. The MSPC SME Icon Award acknowledges industry leaders for their leadership and contribution to the community they served. This year, the 2021 Recognition Award has added a special criteria to salute these industry leaders for their resilience, sustainability, and innovative approaches in riding above the COVID-19 storm, an unprecedented global crisis and challenges.
Datuk Parmjit Singh, MSPC President, gave an inspiring opening remark congratulating all winners for breaking barriers and going above and beyond in influencing and impacting their respective industries and communities.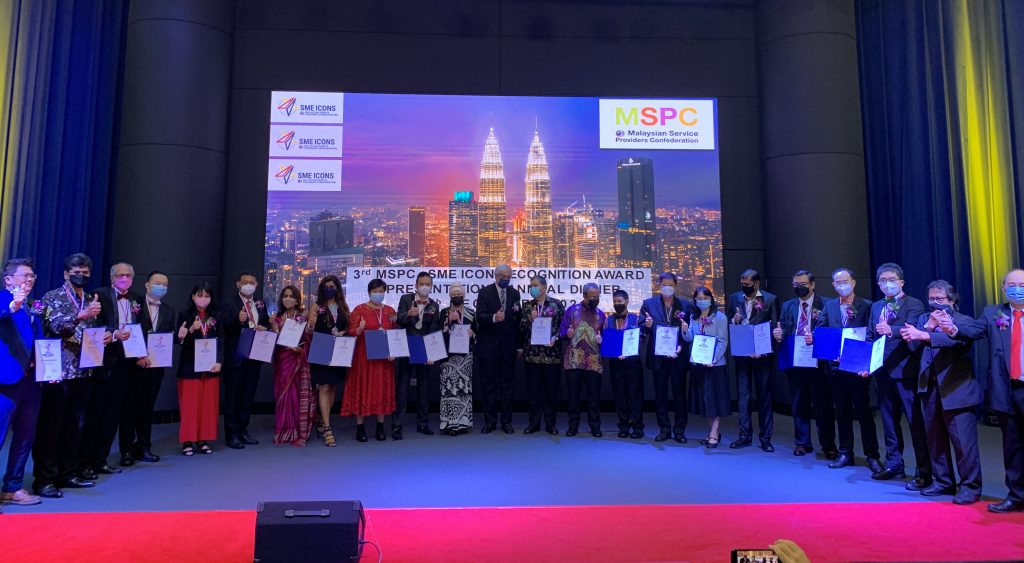 Grabbing the MSPC Tokoh 2021 titles are:
Dato' (Dr) Abd Radzak bin Abd Malek, International President of The Chartered Institute of Logistics and Transport

Prof Tan Sri Dr Sharifah Hapsah Syed Hasan Shahabudin, President of the National Council of Women Organisation
Claiming the prestigious 2021 MSPC SME Icons are:
See Wai Hun, CEO and co-founder of JurisTech

Andal Krishnan, Crest Excellence Centre Sdn Bhd

Angelina Yee Seow Voon, Asia Pacific University of Technology & Innovation

Ahmad Sha'Rainon Md Shaarani, Managing Director of Microcrop Sdn Bhd

Anita Aqeela Hiong, ITCO Niaga Sdn Bhd

Dato Ts Dr Awang Daud bin Awang Putra, Adap Capital Sdn Bhd

Dato' Ho Chi Kian, co-founder of SDS Associates Sdn Bhd

Dr Leong Wai Yie, Perdana University

Dato' Seri Lim Yeong Seong, Jati Tinggi Holding Sdn Bhd

Dr Mohammad Nizam bin Baharom, The Chartered Institute of Logistics and Transport

Mohd Mazhar bin Mohd Marzuki, Avencer FM Services Sdn Bhd

Stan Jit Singh, IronHorse Sdn Bhd

Suhaimi bin Badrul Jamil, Former CEO of WZ Satu Bhd & TH Heavy Industries Bhd

Prof Emeritus Sureswaran Ramadass, VHGlobal Sdn Bhd

Tan Kim Hui, SzeTech Engineering Sdn Bhd/Innovative Precast Builders Sdn Bhd

Dato' Tan Seng Cheong, Managing Partner of Ricky Tan & Co

Vincent Soh Aik Guan, CEO and Founder of Moneysave (M) Sdn Bhd

Sharala Axryd,Founder and Managing Director of The Center of Applied Data Science
Congratulations to all winners! It is truly an honour and a great privilege for JurisTech to be recognised among notable industry leaders. Let's continue to inspire, build, and scale to greater heights!
About JurisTech

JurisTech (Juris Technologies) is a leading Malaysian-based fintech company, specialising in enterprise-class software solutions for banks, financial institutions, and telecommunications companies in Malaysia, Southeast Asia, and beyond.