Ending the year with an outstanding achievement from our CEO, See Wai Hun, was awarded High Impact Entrepreneur of The Year by Endeavor Malaysia.
Endeavor Malaysia is no stranger to JurisTech. Our CEO, See Wai Hun, COO, Naaman Lee and CTO, John Lim were selected as high-impact Endeavor Entrepreneurs in 2014, and they have been impacting the entrepreneurship scene ever since. In recent years, the non-profit organisation has invited Wai Hun to speak at their events, and even to be an esteemed panellist at Endeavor Malaysia's Local Selection Panel (LSP). We were very grateful when Wai Hun was awarded the EndeavHER Endeavor Entrepreneur Mentor Of The Year in 2021's award night.
This year, without exception, Endeavor Malaysia held its annual Endeavor Malaysia Awards 2022 to highlight and celebrate the outstanding work of entrepreneurs in Malaysia. The event gathered company leaders, entrepreneurs, board of directors from many different companies that have amazing contributions to Malaysia and the world's entrepreneurship ecosystem.
Kicking off the night with a welcome speech by Endeavor Malaysia's chairman, Brahmal Vasudevan, who is also the founder and Chief Executive Officer of Creador. After delivering a few words, the night was continued with an annual update of Endeavor's 2022 performance from Adlin Yusman, managing director of Endeavor Malaysia, Nurshaffira Izzad, Strategy & Marcomm Senior Manager, and Jie-En Teoh, Entrepreneur Experience (EX) Senior Associate. One final speech was delivered by Daniel Keegan from Insider who collaborated with Google to hold the award night.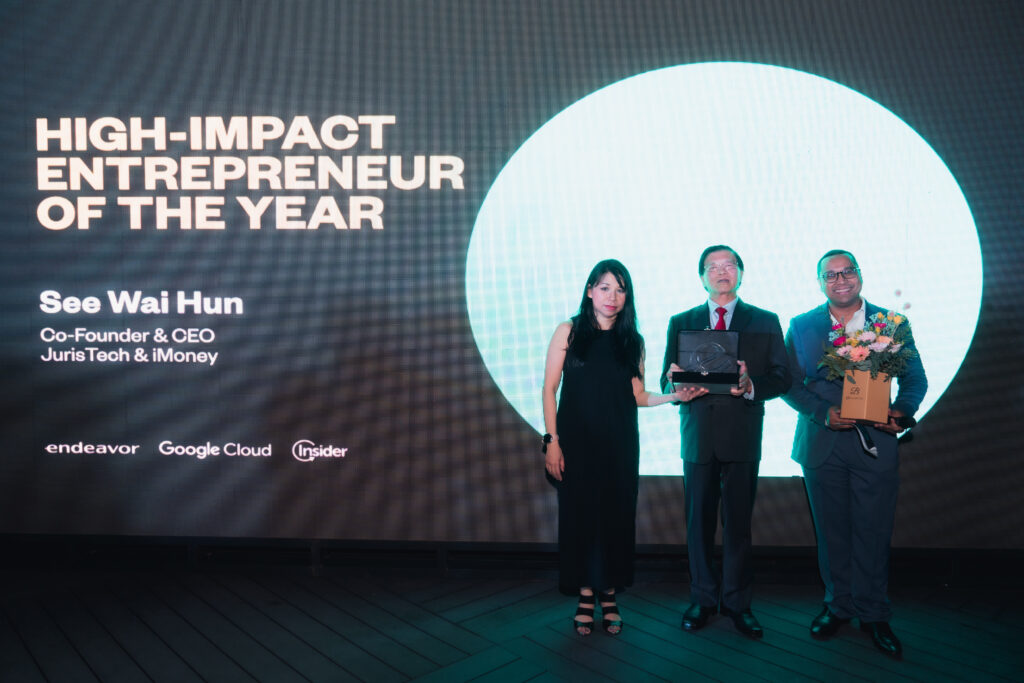 Then, the long-awaited awards ceremony started. There were many entrepreneurs and industry leaders to be celebrated in 2022. Wai Hun was awarded the High-Impact Entrepreneur Of The Year for her contribution in founding and building JurisTech and iMoney. Over the years, Wai Hun has taken JurisTech to greater heights and accomplished the unthinkable which made her more than eligible and deserving of the prestigious award.  Along with her, several other awards were given too, such as:
Congratulations to all the winners! Without a doubt, their hard work, dedication and determination have made them more than eligible for the awards. It was such an honour being awarded alongside many other amazing individuals that have brought Malaysia to the next level. 
"I am so honoured to receive this award. Endeavor is the one who is instrumental in making us who we are today and we are grateful for Endeavor in participating in our growth journey." – See Wai Hun
A big thank you to Endeavor Malaysia for hosting a night to remember, and a memorable award.
About JurisTech

JurisTech (Juris Technologies) is a leading Malaysian-based Fintech company, specialising in enterprise-class software solutions for banks, financial institutions, and telecommunications companies in Malaysia, Southeast Asia, and beyond.