"Anyone can become a bank. That's actually the scary part. You just need a bunch of programmers and some ideas", said See Wai Hun during the Digital Banking and Blockchain Online Conference. On 11 May 2022, Affin Hwang Investment Bank (AHIB) organised a virtual conference featuring our distinguished CEO, See Wai Hun answering a series of questions surrounding the latest trends in the digital banking space and her views on the threats and adoption of digital banks in Malaysia.
Watch the webinar session here.
Latest and future digital banking trends
Moderator Eileen Tan, Associate Director at Affin Hwang Investment Bank, opened up the session by asking what is the latest trends in digital banking for today and future trends five years down the road? Referring to Gartner's hype cycle for digital banking transformation 2021, Wai Hun zoomed in on banking APIs and how open banking is the new strategy. We can see more non-finance players want to provide banking services and APIs allow them to connect to banks. She spoke about banking API aggregators that provide APIs that connect to multiple banks, simplifying banking integration for application developers, and API developer portals in banking that provide the capacity to document, configure and manage usage of APIs for application-to-application communications. Looking at future trends, Wai Hun brought to attention the blockchain technology and how blockchain is powering NFTs (Non-fungible tokens), and CBDC (central bank digital currency) to disrupt the banking industry.
Banking and the metaverse
Speaking about the future of banking, we can't help but ask about banking and the metaverse. With the metaverse so prevalent in the next generation, is banking even possible in the metaverse? How far are we from it or is it just a far-fetch dream? 
"Goldman Sachs and Morgan Stanley estimate that the metaverse economy could be worth as much as $8 trillion." – Goldman Sachs' analyst Eric Sheridan from the exchanges at Goldman Sachs episode titled "Understanding the metaverse and web 3.0".
There are many aspects of the metaverse that are stringing banks and financial institutions to explore the possibility of building a more unified, immersive banking experience. The metaverse is a seamless convergence of our physical and digital lives, creating a unified, virtual community where we can work, play, relax, transact and socialise.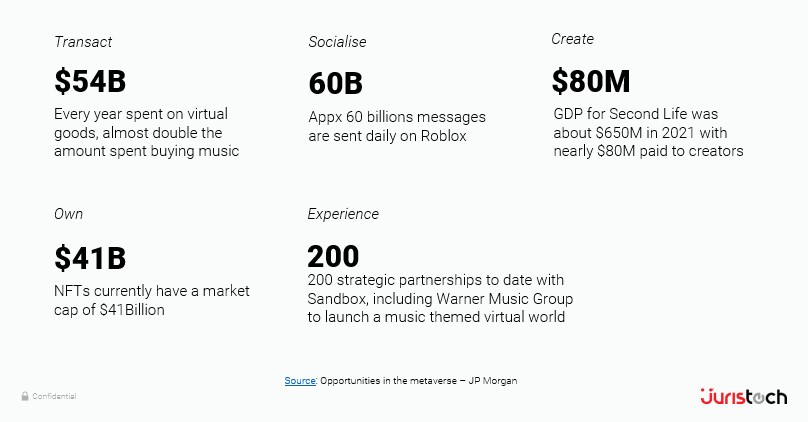 Source: Opportunities in the metaverse by JP Morgan, 2022
According to Wai Hun, we are not far from banks providing financial services in the metaverse. The reason is that we are moving toward a cashless society using e-money. People trust banks. If they need to check their money, all they need to do is to log in to their bank apps. Yet, what happens if we don't need to put our trust in a bank anymore? Instead, we can opt to build zero trust with blockchain as blockchain provides full transparency, immutability, governance, and no censorship. Zero Trust is a strategic approach to cybersecurity that secures an organisation by eliminating implicit trust and continuously validating every stage of digital interaction. Expounding further on each point, blockchain establishes trust and transparency in which anyone can join the network and, as a result, view all information on that network. Blockchain also provides immutability for instance if we send money to another person, nobody can change it. It will remain unaltered and indelible. As for governance, blockchain has a shared community where a group of people come together without a central leader or company dictating any of the decisions where it handles all the governance issues. This is called a decentralised autonomous organisation (DAO). DAO runs on a blockchain protocol fully and autonomously in accordance with rules encoded via smart contracts (digital one-of-one agreements). For censorship, Wai Hun gave an interesting example of the ongoing trial between Johnny Depp and Amber Heard. According to Bounding into Comics, Twitter (owned by Elon Musk who was in a relationship with Amber Heard) has banned Johnny Depp from Twitter. But with blockchain technology, it has the ability to defy censorship.
"We are now technologically ready as blockchain is already here." – See Wai Hun
What can banks do to keep up or be ahead of the curve?
The elements of a new digital age are converging at scale and without a doubt, the banking space is disrupted and transforming. How can incumbent banks keep up with the latest technology and what can be further improved?
Wai Hun mentioned that the problem is not the tech but the culture. "How do I promote innovation in my organisation?" Quoting Gartner, Wai Hun spoke about implementing the Bimodal to promote innovation in organisations. The Bimodal is the practice of managing two separate but coherent styles of culture: one focused on stability and business as usual (BAU); the other on agility and innovation. However, many banks forget that these two modes carry different metrics and they should be rewarded accordingly.
Wai Hun then wraps it up by putting up four things for banks to consider.
Be willing to experiment.

Have validated learning.

Are you creating value or wasting time?

Should you persevere or pivot?
If you are interested in enabling digital transformation in your organisation, hit us up at contact@juristech.net.
About JurisTech

JurisTech (Juris Technologies) is a leading Malaysian-based fintech company, specialising in enterprise-class software solutions for banks, financial institutions, and telecommunications companies in Malaysia, Southeast Asia, and beyond.

As one of the Fintech pioneers in Malaysia, we want to enable financial inclusion for the financial industry with our diverse range of solutions. Check out our latest AI-powered technology Juris Mindcraft, which helps banks and financial institutions to transform their digital landscape; and our end-to-end digital banking platform, Juris Spectrum which covers everything from digital engagement to lending and deposits, to digital collections, and artificial intelligence.