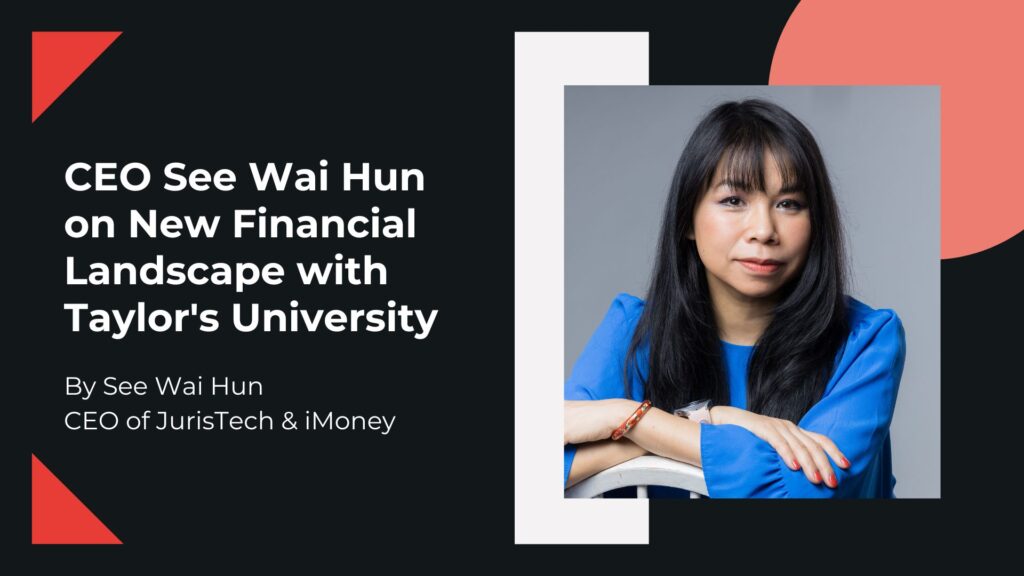 On 11th November 2022, our CEO, See Wai Hun was invited by Taylor's University to share insights on Malaysia's latest financial landscape, and how it is disrupting the future of financial and banking services. 
After a fun ice-breaking session, Wai Hun began the talk by explaining how the industrial revolution (IR) for the past few decades has changed the world. In IR 1.0, traditional forms of work such as handicraft manufacturing were replaced with machines. IR 2.0 was a phase of rapid scientific discovery, standardisation, mass production and industrialisation. Whereas in IR 3.0, the rapid advancement of computer technology made it possible for people to use computers in their homes and offices.
How will IR 4.0 disrupt the financial industry?
Wai Hun shared that IR 4.0 is a new phase where modern forms of information technology are used to enhance and improve manufacturing processes in multiple sectors. The financial industry is no exception. Banking services are thriving due to the favourable impact of digital innovation in the industry bringing in new competitors entering the financial space such as digital banks.
Digital bank, a new era of banking
Wai Hun explained that a digital bank is one that operates wholly through the internet or other electronic platforms. Unlike brick-and-mortar banks, digital banks do not have any physical branches as everything banking can be done online. Digital banks provide speed, flexibility, and convenience, a huge customer experience boost.
Besides that, digital banks encourage financial inclusion. Wai Hun mentioned that Southeast Asia (SEA) is still experiencing low levels of financial inclusion. There are a total of 290 million of the population that are still unbanked and underbanked but digital banks may just be able to change that! For instance, digital banks are powered by more advanced technologies such as data analytics and artificial intelligence (AI). To determine an individual's creditworthiness, traditional banks would have to rely on credit history whereas, with AI, digital banks can make use of alternative data (i.e. utility payments, rental payments, shopping history, mobile data, etc.) to better understand the repayment capacity of the individual. Hence, Wai Hun believes that this will leave a huge impact on the unserved and underserved people such as the low-income and early-income groups, in increasing their accessibility to finance. Thus, driving greater financial inclusion as a whole.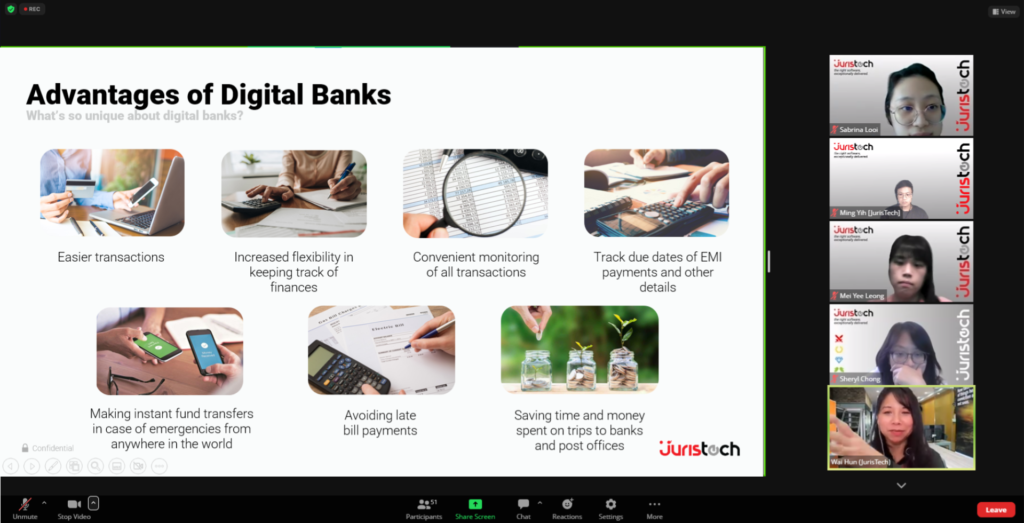 Highlighting an example that Wai Hun brought up, is the AEON Credit and MoneyLion Consortium, one of the winners of Malaysia's digital banking licence. AEON Credit is a consumer finance company that provides financing (i.e. personal loans, motorcycle and used-car loans) to customers who are predominantly from the B40 group while MoneyLion provides a platform that is powered by technological capabilities such as data analytics and AI. She mentioned that the partnership between these two companies would enable the new digital bank to develop products and services that are able to address the unserved and underserved market's pain points.
To stay in the game, traditional banks have to digitalise
However, with all the fancy perks, digital banks are not without their challenges. Wai Hun then puts out a simple question to the students present, "Would you put your salary and all your savings in a new digital bank?" 
"Trust" is the name of the game in the financial industry. Although customers are accustomed to the convenience of digital services, it may take years for digital banks to build the same level of trust that customers have with incumbent banks. But if traditional banks were to digitalise, they stand a chance to stay ahead of the game as they have what digital banks lack — trust.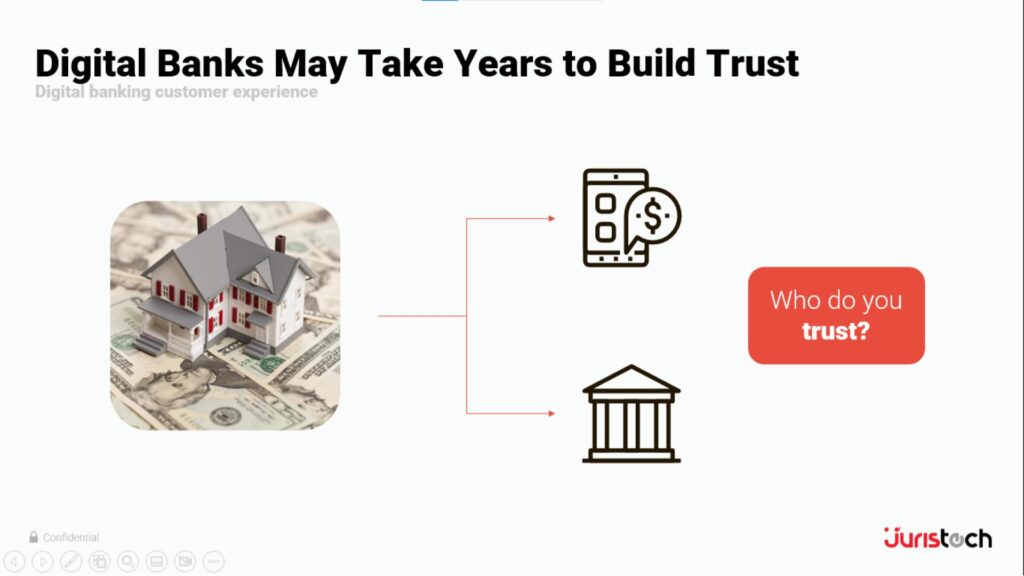 The talk ended with a conducive Q&A session between Wai Hun and the students, followed by a sincere act of gratitude by the event organiser to Wai Hun for shedding light on the latest development in the Fintech industry.
About JurisTech

JurisTech (Juris Technologies) is a leading Malaysian-based fintech company, specialising in enterprise-class software solutions for banks, financial institutions, and telecommunications companies in Malaysia, Southeast Asia, and beyond.