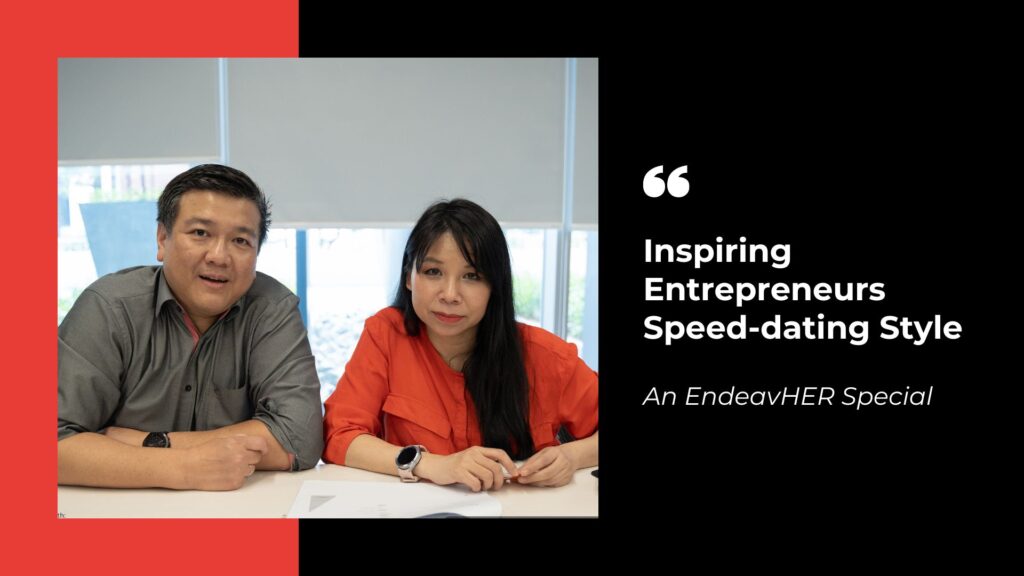 As part of Endeavor's latest edition of their Thought Inspire Series, Endeavor endeavoured to make it memorable and interesting with "speed-mentoring". This means having one-on-one mentoring sessions speed-dating style. On 15 November 2022, the EndeavHER Special with Womentum, invited Wai Hun, an Endeavor Mentor, to pay it forward by having "quick dates" with entrepreneurs allowing them a space and an opportunity to speak to her one-on-one.
Together with Wai Hun (CEO of JurisTech) and Naaman (COO of JurisTech), some of the prominent mentors, entrepreneurs and industry leaders that were present were 
May Lim, Managing Director of Arnott's Group, 

Tunku Alina Alias, the Chair of JA Russell & Co (whose subsidiary is Boh Plantations), 

Vicks Kanagasingam, Strategic Advisor & Coach of Leaderonomics, 

Anne Tham, Group CEO & founder of ACE EdVenture Group, 

Sunderaj Nagalingam, Group Directions Director of Dscaff Industrial Services, 

Adrian Hia, Investment Director of Kairous Capital, 

Winnie Chua, co-founder and Chief Product Officer of PolicyStreet, 

Lennise Ng, CEO & co-founder of Dropee, 

Rejina Rahim, founder of Wahine Capital, Pauline Teoh, licensed financial planner with FA Advisory Sdn Bhd, and more.
"Being a mompreneur myself, juggling motherhood while running a business is no easy feat but you can be great at both. All you need is VISION. To not be distracted by comparison but captivated with purpose." – Wai Hun, COEO of JuisTech.
JurisTech's success journey has always been intertwined with the work and support Endeavor has sowed into the leaders of JurisTech. Endeavor is the world's leading community of high-impact entrepreneurs. They unlock the transformational power of entrepreneurship by selecting and supporting the world's top founders and entrepreneurs of fast-growing startups and companies to help them achieve significant impact.
"Endeavor has been the game changer in our growth, mindset, approaches since the early days of knowing them back in 2014. I truly believe without Endeavor we wouldn't be in this stage of growth. Our success is in no small part owed to Endeavor with their diverse array of mentors and perhaps more importantly their outstanding and caring local office." – Naaman, COO of JuisTech.
About JurisTech

JurisTech (Juris Technologies) is a leading Malaysian-based fintech company, specialising in enterprise-class software solutions for banks, financial institutions, and telecommunications companies in Malaysia, Southeast Asia, and beyond.