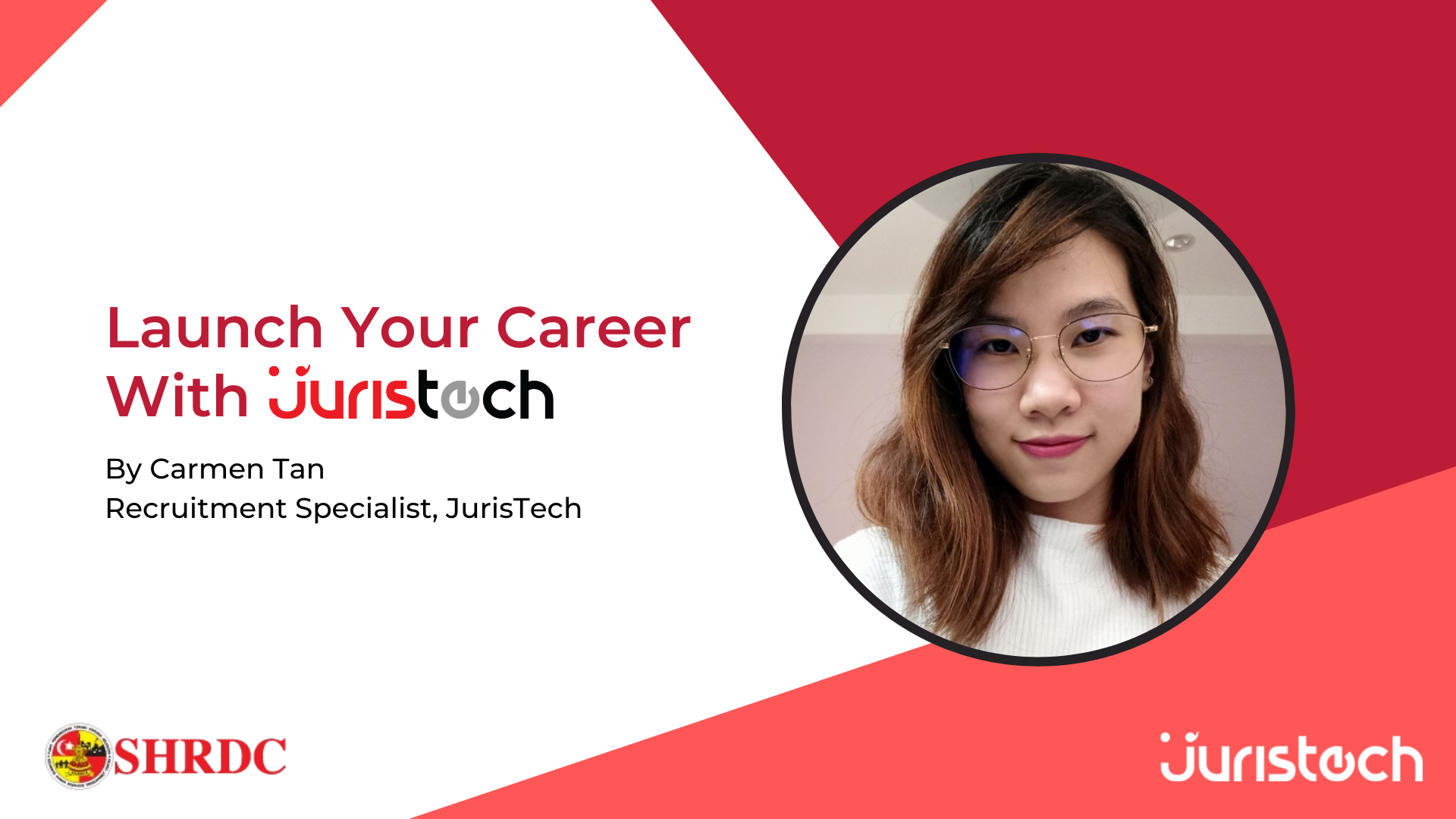 On 3rd November 2022, Selangor Human Resource Development Centre (SHRDC) invited JurisTech to give an insightful virtual talk on how future graduates can launch a successful career in the tech industry. SHRDC is a talent and skills development centre that provides technical competency-based training as well as management and leadership skills training for individuals and businesses. Our welcomed Recruitment Specialist, Carmen Tan, gave the virtual talk to over 20 participants who were graduates from IT and Engineering backgrounds.
After kicking in a fun ice-breaking session, Carmen moved to introduce JurisTech's background and history from when our CEO, See Wai Hun, and CTO, John Lim, founded JurisTech in 1997. She shared how JurisTech has grown to become one of the fastest-growing Fintech companies in Malaysia over the past 20 years, celebrating multiple milestones and achievements. Throughout the years, JurisTech has been developing transformative software solutions for banks and financial players, streamlining new ways customers can consume banking and financial products. Carmen also accentuated how JurisTech has grown an international presence in 9 countries, as part of its vision or 'Big Hairy Audacious Goal' to reach 100 institutions in 10 different countries in 10 years by 2028.
Carmen then moved on to share more about JurisTech's work culture and how we incorporate four core values across the company namely, Growing Heroes, Making Excellence Happen, Customer First, and Opening Up, or GECO in short. These values are embedded at the heart of JurisTech and are a reflection of how our employees foster working relationships with all stakeholders of the company to induce higher productivity and work inclusivity. Carmen also added how JurisTech harbours a work-life balance where employees can enjoy a myriad of facilities in the office from making your perfect cup of coffee at our coffee bar, sharing a conversion or just kicking it back at our 'Heroes Corner', to indulging in a number of games at our entertainment zone such as playing pool, futsal, table tennis, and more! Employees can also enjoy flexible working hours coming to the office anytime between 7 am – 11 am as long as they adhere to a 9-hour work schedule.
Carmen then moved to share the key roles and positions in JurisTech. As a leading Fintech company in providing credit management software solutions to financial industry players, JurisTech takes pride in hiring exceptional software engineers (SE) and professional services engineers (PS). The career paths for SEs and PSs are both rewarding as their roles in the company drive new levels of product innovations as well as act as key roles in steering the company to success. Carmen emphasised how some of JurisTech's earliest SE and PS joiners have now become company leaders and directors within a decade.
Carmen also shares how candidates applying to JurisTech with no prior tech background can also become Professional Services Engineers through our Heroes Training Academy (HTA). HTA is a unit dedicated to training new hires to go through a 2-week onboarding and training session to be equipped with the essential skills needed to start their tech journey.
Coming to the end of the talk, Carmen enlightened the audience with a number of valuable pieces of advice for graduates to kick start their careers from building their work résumés and digital profiles to sharing interview best practices and methods to successfully land a job.
The talk ended in a fruitful Q&A session followed by a warm appreciation and gratitude to Carmen for imparting invaluable knowledge to the participants.
Interested in kick-starting your career at JurisTech? Check out and apply to some of the amazing positions we have for you on our Career page!
About JurisTech

JurisTech is a leading Malaysian-based Fintech company, specialising in enterprise-class software solutions for banks, financial institutions, and telecommunications companies in Malaysia, Southeast Asia, and beyond.