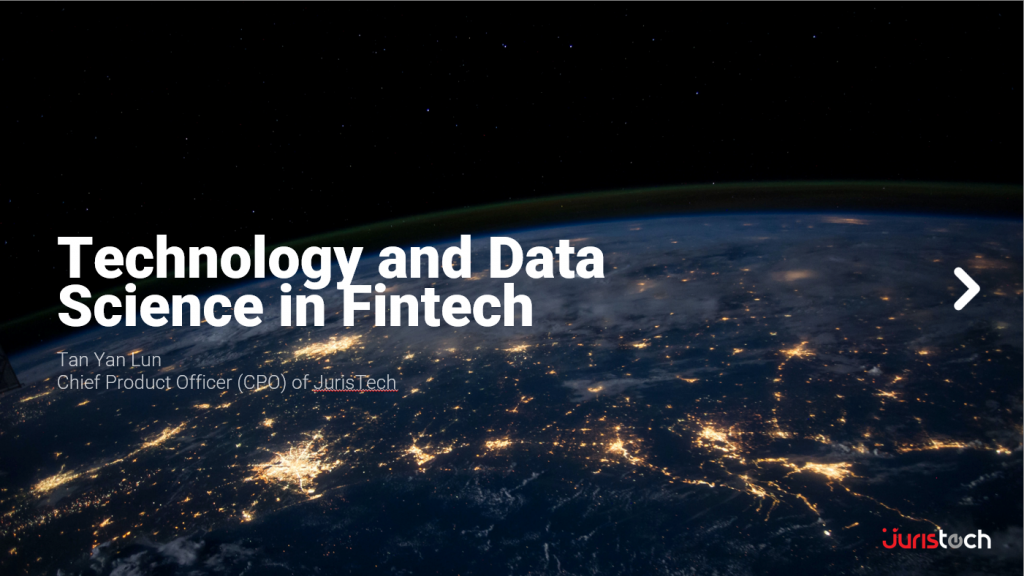 On the 19th of August, Young Malaysian Engineers (YME) held their Hackathon event during their Malaysian Students' Technology Week (MTSW '22) and invited our fun and energetic Chief Product Officer, Tan Yan Lun, to give a talk about the roles of technology and data science within the Fintech industry, and how does JurisTech fit in the equation.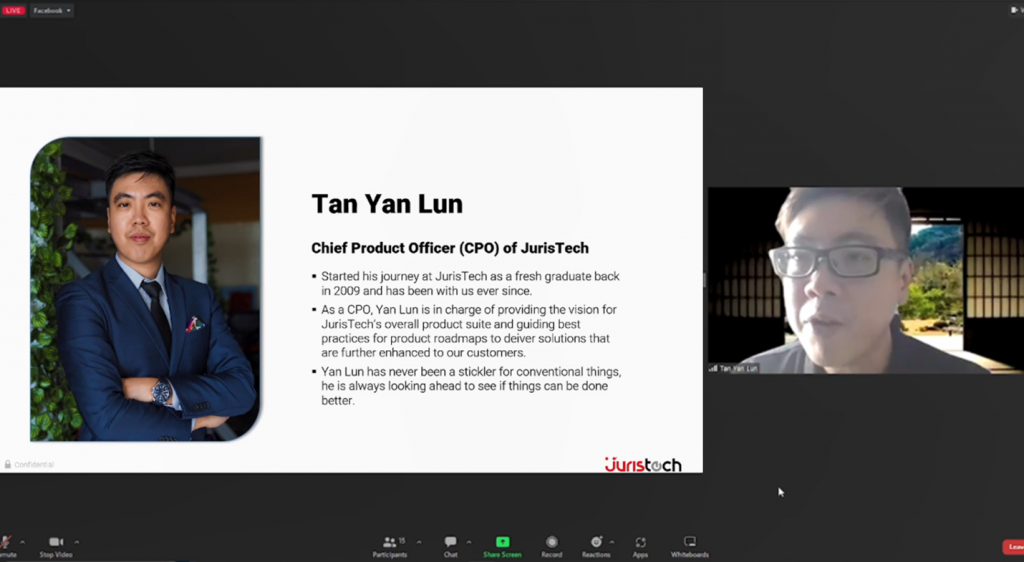 What is Data Science?
Yan Lun kickstarted the talk with an introduction to Data Science. 
'Data science is an interdisciplinary field. It combines computer science, math and statistics, business domain expertise, to come up with valuable insights and data to help people make business decisions, analyse trends, and forecast events' – Yan Lun. 
His opinion is that this holds particularly true when it comes to COVID-19. With the data gathered from the recent pandemic, people are now able to predict which industries would take the greatest hits in a future pandemic, and with that knowledge, come up with solutions to soften the blow. 
How Is Data Gathered?
According to Yan Lun, traditionally, data is gathered from hand-filled forms. Nowadays, however, with Artificial Intelligence (AI), data can be collected automatically via data points with little to no human input. 
For example, a prominent technological feature that helps gather data digitally would be computer vision. This refers to the computer's capability to prioritise and discern important information from visual inputs such as digital images or videos. 
Yan Lun has mentioned that optical character recognition (OCR) technology is one of the many technological breakthroughs within the computer vision category. This technology translates detected characters or texts into computer codes, which can then be processed digitally. One notable example of this technology in use is within car parks such as Pavilion Bukit Jalil or Sunway Pyramid, where your car number plate is detected with a camera when entering the parking lot, superseding the old method of having to print an entry ticket upon entry. Within the context of the banking and finance industry, however, banks are using it for a wide range of processes as well. For instance, they require their customers to scan their identification documents or bank statements using the bank's mobile application to apply for credit cards or loans. 
Additionally, Yan Lun has further expressed that facial recognition technology is also used within banks. This can be seen especially during the lockdowns of the COVID-19 pandemic, when businesses aren't allowed to operate in physical stores. Facial recognition helped in many ways, such as detecting customers' faces when logging in to the mobile banking application. It is also used to detect fraudulent applicants, as facial recognition technology is capable of detecting people using a fake picture to apply for bank services. 
Another way that data can be gathered digitally is through the use of natural language processing (NLP) technology. Yan Lun explains that NLP enables computers to understand and process human languages, in terms of activities such as translation, speech processing, sentiment analysis, and even as a conversational platform which acts as a medium between enterprises and customers. For instance, Google Translate is a popular tool when it comes to translating text between multiple languages. Amazon Comprehend and Amazon Lex have the ability to determine their user's moods based on their tone of voice. Siri and Alexa are famous examples of conversational platforms, where users can interact with an AI through the use of text and speech. 
How Are Data Science And AI Used In Our Daily Lives?
The use of data science and AI in our daily lives is more common than one might believe. 
For an instance, for online streaming services, YouTube, Netflix, and Spotify, just to name a few, make use of our data gathered from our profiles such as our age, location, browsing history, consumption time, and so on, to tailor recommended content to us to keep us engaged. 
Tesla, a US electric automotive and clean energy company, disrupted the automotive industry by producing electric cars with advanced hardware capable of driving autonomously. Since the introduction of Tesla's self-driving electric cars, many other industry giants such as Mercedes, BMW, and Porsche, have started to follow suit by introducing electric cars, which could indicate that autonomous driving could be within reach in the near future. 
When it comes to smart home living, Yan Lun shared that Samsung has produced a smart fridge by combining Samsung's very own conversational platform, Bixby, with this refrigerator. The fridge is also equipped with sensors, cameras, screens, and Wi-Fi, to become capable of letting its users know what needs to be restocked, setting up reminders for the expiration date of produce in the refrigerator, letting its users see what's in the refrigerator through the screen instead of opening up the refrigerator doors, and even playing their favourite shows or music on the refrigerator, which can come in handy whilst cooking! 
What is Fintech?
Fintech is derived from the words 'finance' and 'technology'. 
'We're marrying technology with financial solutions together, and we try to help consumers and financial institutions (FI) to deliver financial services in newer, faster ways.' – Yan Lun.
How Does JurisTech Fit In The Equation?
Here at JurisTech, we have been offering a multitude of services to financial institutions. To name a few, we provide software solutions such as AI, conversational chatbot, credit scoring, debt collection, digital customer onboarding, loan documentation and origination.
In terms of data in customer onboarding, here are a few objectives that our services aim to achieve: 
Alternative credit scoring:

There are certain criteria in place when it comes to applying for credit cards or loans with banks. We aim to help those that do not fall within the current criteria by providing financial institutions with an alternative method of credit scoring. We take data sources from your social media accounts, online payment history, university grades, and so on, to gauge your ability to pay loans or credit cards, should you apply for these. 

Product recommendation engine:

Everyone has different needs, and there is a multitude of credit cards with different benefits. With our product recommendation engine, FIs can now suggest the right products to the right customers, elevating the customers' banking experience. 

Calling list optimisation:

We help FIs make use of their existing customer database to mine potential customers that have high lifetime values. Moreover, FIs can identify customers that are interested in applying for banking services, by filtering through the customer database and weeding out customers or accounts that are likely to be spam or unresponsive. With this, we can also help prioritise a list of cold calling numbers. 
As for data in origination and monitoring, here are the objectives that our services aim to achieve for your financial institution: 
Early warning system:

Our account monitoring feature can determine which customers are likely to pay or not pay their loans within the next few months. 

Product cross-selling & up-selling: If your customers provide you with their financial plans, we can help FIs by recommending the most suitable product or services according to the customers' financial plans.
Credit decisioning: We also provide AI-powered credit decisioning tech solution by consolidating data from various sources before recommending a decision and is capable of continuously improving itself with the inflow of new customer data.
As for data in debt collection, here are the objectives that our services aim to achieve for your financial institution: 
Self-curing identifier:

Our software feature help to prioritise your calling list of debtors based on their past behaviour and identify late-payers and self-curing customers, allowing you to focus your efforts on high-risk customers. 

Enhanced Collection Optimiser (ECO): We can help by personalising collection strategies for each individual account and predicting the day customers are the most likely to pay their debts.
Best time to call: Make the right call at the right timing. With data, we can learn the customer's behaviour to determine the best time customers are most likely to answer the call.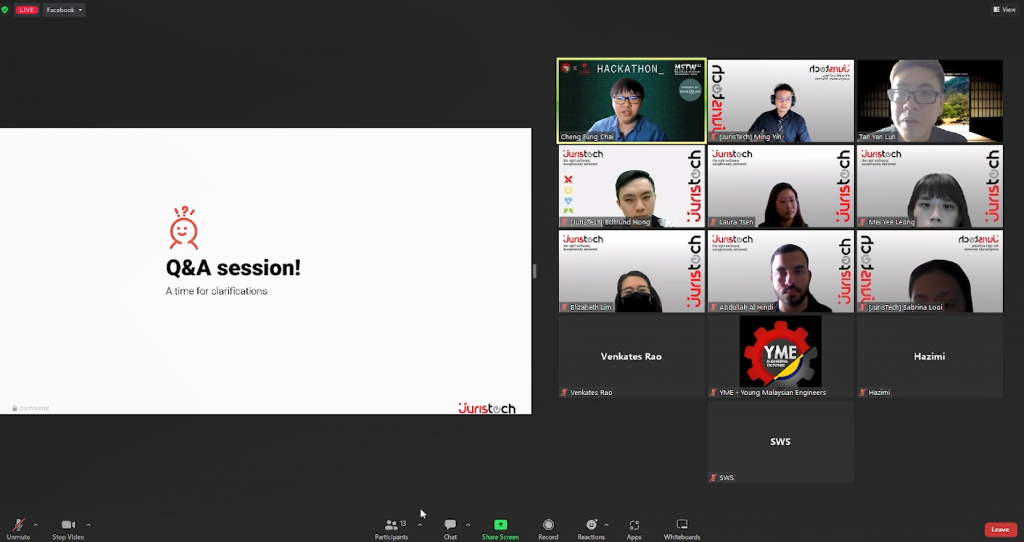 In A Nutshell
The Fintech industry is one of the emerging industries despite the COVID-19 setbacks that multiple industries faced. Data science and AI are solid, viable options should you wish to upgrade your business processes, leaving you with time to focus on the important matters at hand. 
The event ended with a conducive Q&A session between Yan Lun and the students who attended the event, followed by a sincere show of gratitude by the event organiser to Yan Lun for shedding light on the roles of technology and data science within the Fintech industry.
About JurisTech

JurisTech (Juris Technologies) is a leading Malaysian-based fintech company, specialising in enterprise-class software solutions for banks, financial institutions, and telecommunications companies in Malaysia, Southeast Asia, and beyond.