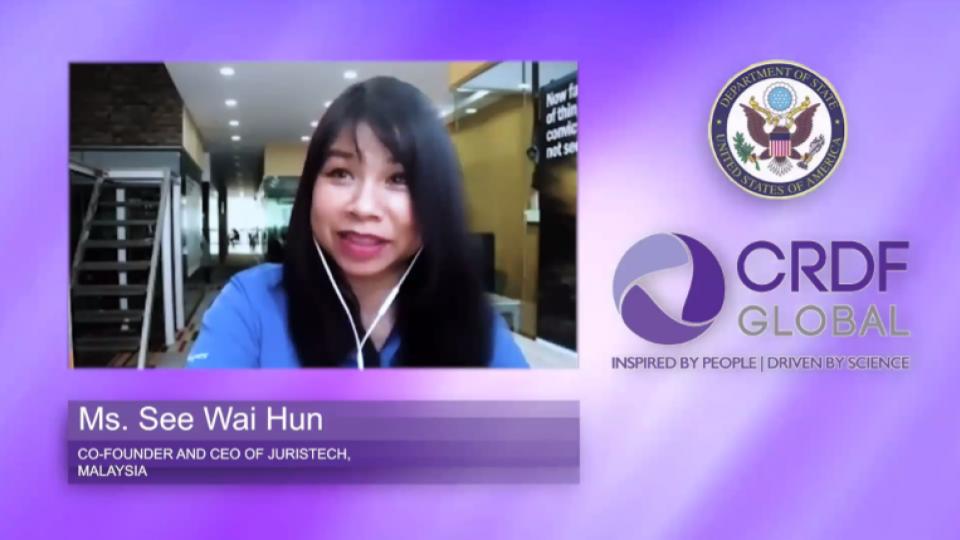 On the 18th of May 2022, our CEO See Wai Hun was invited as one of the panellists for CRDF Global's Webinar Series Part 1: The Role of Women in STEM for Sustainable Economic Growth and Science & Technology, to shed light on women in Science, Technology, Engineering and Mathematics (STEM) in Malaysia. CRDF Global is an independent nonprofit organisation that promotes safety, security, and sustainability through international development and foreign assistance missions in over 120 countries. 
Moderated by Dr. Mahaletchumy Arujanan, the Global Coordinator at ISAAA and Executive Director of the Malaysian Biotechnology Information Centre in Malaysia, joined by Dianne Eldridge, the keynote speaker of the webinar and the esteemed panellists from Malaysia, Indonesia, Brunei, Singapore and Papua New Guinea.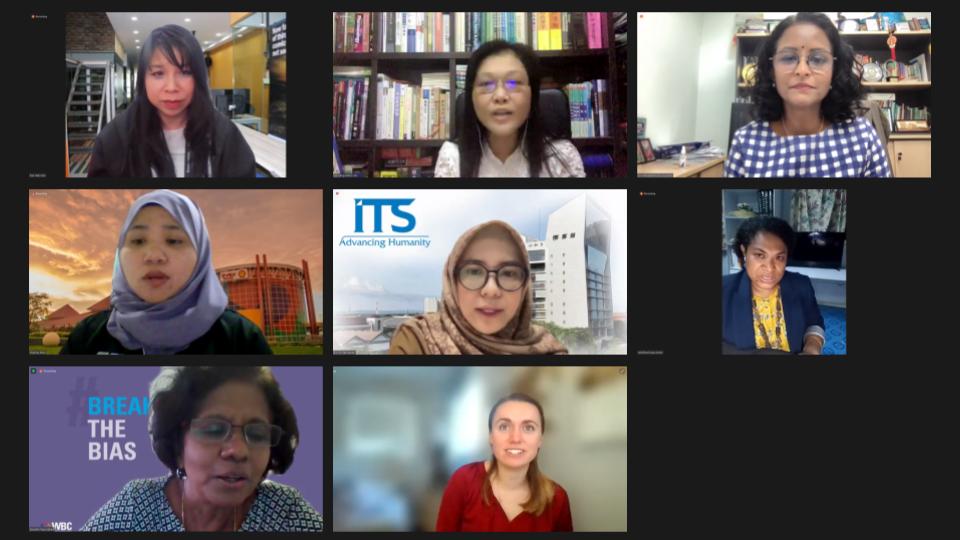 From left to right: See Wai Hun (Panellist), Lim Yang Mooi (Panellist), Mahaletchumy Arujanan (Moderator), Shaima Misli (Panellist), Sri Fatmawati (Panellist), Winifred Kula Amini (Panellist), Shanthi Ravindran (Panellist) and Nina Cairns (Organiser)
The session began with Dr. Maha, the moderator, opening the discussion by asking each panellist about the current state of women in STEM fields in their respective countries. Wai Hun shared her perspective on the state of women in STEM in our local economy, to which she highlighted that there is an increase in women's participation in STEM education. For example, Malaysian girls are performing well in STEM from primary schools up to university, in both academic and extracurricular areas. In addition, Malaysia has achieved gender parity in STEM as 57% of our science degree holders nationally are women, and 29% of our engineering graduates in tertiary education were women. However, only 6% of women stayed in the industry working as professional engineers.
Dr. Maha then asked what was the driving force that triggered these changes, to which Wai Hun replies with the Malaysian government introducing certain strategies to improve women's working conditions. For example, the Corporate Governance (CG) Blueprint 2011 and the current Malaysian Code on Corporate Governance 2021 (MCCG 2021) set by the Malaysian government aims to achieve 30% female representation in board membership. Malaysia has managed to achieve the highest percentage of women board members in Asia at 26%, ahead of similar economies like Singapore, Thailand and Hong Kong, and also the global average of 19.7%. Wai Hun also shared that Malaysia has the highest percentage of women chief financial officers among the Asian nations surveyed, more than double the global average of 15.7% (source: NST).
Although Malaysia has made amazing progress in assuring women's involvement in the STEM industry, there are still issues to be addressed. One of them being women having faith in their own abilities. Many speakers, including Wai Hun herself, agree that a lot of women are still not very confident in themselves. For example, men will apply for a job if they meet 60% of the qualifications. Women, on the other hand, will only apply if they meet 100% of the qualifications. Wai Hun continues by sharing that her mother, a bright and intelligent woman, was unable to pursue higher education due to traditional stereotypes that existed back in the days, that women's duties as a wife and a mother should come first before anything else, thus making her feel disheartened. 
The session ended with advice from all panellists, telling women and girls to be more confident in themselves and their abilities. If you ever feel doubtful of yourself or your abilities, don't overthink, just do it. 
"Like Nike's slogan, just do it," – See Wai Hun, CEO of JurisTech & iMoney. 
About JurisTech

JurisTech (Juris Technologies) is a leading Malaysian-based fintech company, specialising in enterprise-class software solutions for banks, financial institutions, and telecommunications companies in Malaysia, Southeast Asia, and beyond.