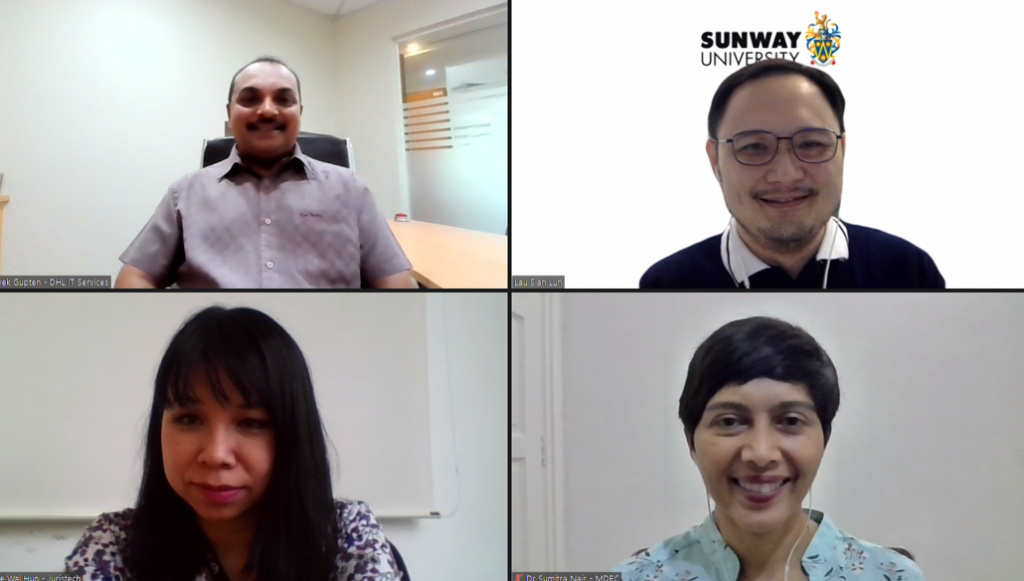 The rise of the global pandemic has placed an increasing concern towards the movement of economies around the world, especially the toll it would put on graduates upon entering job markets. With the rate of unemployment rising in Malaysia, the highest rate since the economic crisis back in 1987, it has put many students graduating in 2020 feeling uneasy on how their career prospects would look like. However, with technology paving the way for many industries, it's become imperative for companies to transform themselves, and with that the hunt for digital talents to drive them. So what would this mean for the future of IT graduates in 2020?
In a recent virtual forum held with Sunway University on 29th September 2020,  this topic of concern was raised by the moderator, Assoc. Prof. Dr Lau Sian Lun, Associate Dean and Head of Department at Sunway University. The speakers of the forum were all well regarded and credited figures in the tech industry, namely, Dr Sumitra Nair, Vice President of Talent Development and Digital Entrepreneurship, MDEC; Mr Vivek Guptan, Head of Global Service Desk (Cyberjaya), Emergency Incident Management and Business Service Support, DHL; and our very own visionary leader and Chief Executive Officer of JurisTech, Ms See Wai Hun.
Kickstarting the discussion, Dr Lau raised to the speakers the question of how each of them has seen through digital transformation in their respective companies. Mr Guptan shared how digital transformation is not something new as it goes back to seeing how things can be automated. In today's generation, rapid trends have accelerated people's expectations in constantly looking for things that are new and exciting. In order for companies to maintain such expectations, they need to be able to speed up their day-to-day processes. One way DHL has been transforming digitally is by investing in robotic process automation as a means to drive more efficiency in their day-to-day operations.
Dr Sumitra, who leads the national initiative of creating an inclusive and sustainable talent development ecosystem in Malaysia, shared how large corporations have been embarking towards digital transformation in the past five years. She mentioned how the impact of COVID-19 on the nation had several companies relook at their business efforts and push for an online presence. Furthermore, she explains how there has been a huge disparity of digital readiness between rural and urban regions in Malaysia, which is a particular struggle MDEC has been trying to address.
Wai Hun highlighted how digital transformation is being driven by the market and the need to survive, especially in such difficult times. She shared an interesting example of how China expedited economic reforms, particularly in the education sector to shift 200 million students into online classes within 3 months. This just comes to show how market forces can actually drive digital transformation. Companies who have been disrupted and disintermediated are beginning to realise the importance of emulating digital leaders who have already achieved a level of digital innovation. As a visionary of JurisTech, Wai Hun has always had a zeal for innovation and is always on the go to discover what people are searching for in the market. She iterated how being able to adopt a certain level of innovation in a company can ultimately lead them to create a culture that is constantly driven by innovation.
In the case of the young people, Wai Hun mentioned how they are more nimble and agile making it easier to instill innovative ideas in them much earlier. Guptan added how it is the younger people who are the ones looking at new and different perspectives, attempting to digitise things. Organisations today should consider investing more into younger people as they would be the ones driving and adapting them to changes in the digital age. So how is the current pandemic affecting IT careers?
It's true that many industries in Malaysia have been heavily impacted by the Movement Control Order (MCO) with 1 out of 3 people getting a pay cut (30% of the Malaysian workforce). However, it's a different story for the tech space. Wai Hun reassured students how the pandemic has amplified the need for many companies to go digital, which translates into more job opportunities in the market for digital talents. Dr Sumitra followed by mentioning how IT graduates have better opportunities to secure a job compared to other fields in the job market. According to a LinkedIn report on emerging jobs in Malaysia 2020, expertise in data science, software engineering, data engineering, cybersecurity, digital marketing, DevOps engineering, and many technical positions are in high demand and being sought after.
Having said that, it is still an employer's market after all and one thing holds true, the better the skill set, the more likely you'll secure the job. The job market today is very competitive and fresh graduates need to prepare and compete with experienced talents who are searching for jobs with expectations to work for minimum pay.
Dr Lau mentioned how tech skill sets are very much needed to be outlined in a candidate's CV to demonstrate the value they can create in a work environment. He further dived into this by asking the speakers to share the kinds of skill sets they are looking for in their respective companies. For Guptan who works with the IT services department in DHL, he shared how they are looking for graduates with the CGPA of 3.0 and above. As they are also a customer-driven business, they're also looking for skills in UI/UX as he explains the importance of continuously building a seamless customer journey for their customers.
On the other hand, JurisTech looks for a number of skill sets in a candidate, ones that aren't inherent in everyone but can be built with time. Wai Hun mentioned how JurisTech values a candidate's analytical skills. For us, it's important to ensure that potential candidates have the fundamentals and analytical mindset to be able to learn and understand anything. At JurisTech, we have a training school, Heroes Training Academy (HTA) with which we pride ourselves in developing exceptional business analysts coming from all kinds of backgrounds.
Being analytical should also be coupled with an attitude and driven interest in constantly seeking new trends in the market, especially with how fast-paced tech can be. We also place a higher weightage on candidates based on their CGPA. It can be quite disconcerting for students to hear that, but it should be something they should take into consideration. Evaluating a candidate's CGPA can be perceived as a reflection of one's commitment and determination put into completing their studies through the spirit of excellence.
To close off the session, each speaker shared a few words of wisdom with which the future generation should hold on to secure their future careers no matter how difficult a stand they find themselves in. Dr Sumitra advised students on three learning points. 1) To constantly develop soft skills in every line of work. 2) Being able to identify transferable skills which simply means looking at and building on skills which could potentially be used in other areas of work. 3) Become a lifelong learner.
Guptan advised that with the time ever changing, graduates should be more open-minded and resilient to developing the ability to adapt to new changes. They should also take ownership of their work, with the mindset to drive changes and be able to transform an organisation ahead.
Wai Hun shared how she had come across very few people who've been able to impress her in the course of an interview. They are the ones who carried the initiative to go the extra mile in researching about the company they're applying for prior to the interview itself. This illustrates the level of interest they have in the company, and ultimately would be prioritised over candidates who do not show the same level of commitment. With that, the forum ended in a fruitful Q&A discussion between the students and speakers.
As a key takeaway, fresh graduates have to be realistic in their choices and expectations. Ideas they had about job descriptions and remuneration prior to COVID-19 will have to be tempered. The dream of an office or own workstation may be a thing of the past. They should not only look at opportunities for salary but also look for opportunities in growth. They also need to look at the culture of the company, whether that culture allows you to thrive. There is a whole life journey for graduates so they should not worry as they have their entire lives to look forward to, to build their professional careers.
About JurisTech

JurisTech (Juris Technologies) is a leading Malaysian-based fintech company, specialising in enterprise-class software solutions for banks, financial institutions, and telecommunications companies in Malaysia, Southeast Asia, and beyond.