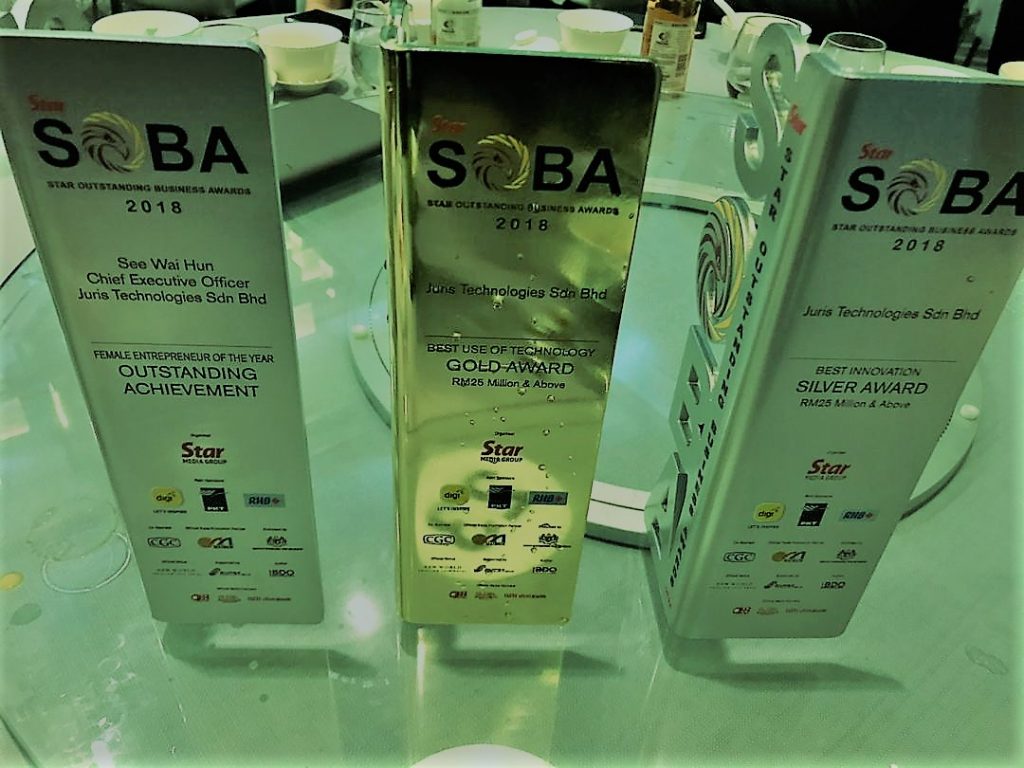 The ambience was electric at last night's Star Outstanding Business Awards as JurisTech secured Gold, Silver and Outstanding Achievement awards in three major categories: Best Innovation, Best Use of Technology and Female Entrepreneur of the Year!
Each year, SOBA attracts the most accomplished businesses, innovations and entrepreneurs in Malaysia, and this year was no different. However, JurisTech managed to lock horns with the best of them and emerged victorious.
Best Use of Technology (Gold) was awarded for one of our flagship solutions, Juris Access!
Awards in this category recognize the achievements of Malaysian enterprises that have most effectively leveraged and integrated technology in their business to have an edge in today's marketplace. Juris Access fits the bill perfectly, being a web-based digital customer engagement and onboarding platform, that revolutionizes the way people get loan and financing. Major financial institutions and banks in Malaysia have already implemented Juris Access and have achieved a substantial leverage over their competitors.
Best Innovation (Silver) was awarded to Footsteps, a company culture gamification app created by JurisTech. Footsteps is proven to have created greater employee satisfaction and higher Net Promoter Scores (NPS) through a culture of appreciation, continuous learning, and real-time engagement.
Female Entrepreneur of the Year (Outstanding Achievement) is one of the most coveted awards at SOBA, and it was won by the incomparable See Wai Hun, our phenomenal leader, a renowned entrepreneur, a legendary mentor and visionary CEO.
Before SOBA, Wai Hun's contributions in the field of financial technology and enterprise software have earned her recognition by local and international bodies such as Endeavor and Digital News Asia . She has also been featured in Chris Zook's (famed business writer and partner at Bain & Company) international best-seller, The Founder's  Mentality.