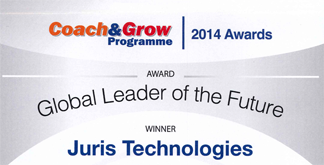 Kuala Lumpur, Dec 1st: JurisTech has been announced as the winner of "Global Leader of the Future – 2014" by Coach & Grow Programme – an initiative sponsored by the Ministry of Finance, Malaysia. Alongside JurisTech, a total of 125 companies participated in the CGP 2nd series.
See Wai Hun, CEO – JurisTech was presented with the award in a ceremony on Nov 27, 2014. She commented, "We are honoured to be recognized for our potential for global expansion by CGP, and are confident that our credit management solutions can cater well to the financial sector outside of Malaysia. Our vision is to be the best credit management software in the world."
About JurisTech 
JurisTech is an MSC Status IT company specializing in credit management solutions.  It offers loan origination, credit scoring, behavioural scoring, debt collection and CRM solutions across Banking, Telco and Utilities sectors. JurisTech is being increasingly recognized for its high-value entrepreneurial model in a niche market. Earlier in 2014, it was selected as an Endeavour Entrepreneur company in New York, USA.
About Cradle & CGP
Cradle, an agency under the Ministry of Finance – Malaysia, is a not-for-profit organisation that manages the RM100 million Cradle Investment Programme since its inception in 2003. Managed by Cradle, CGP is a market-driven coaching programme intended to bring together key players in the entrepreneurial ecosystem to support and fortify technology entrepreneurs grow their businesses to greater heights.
To know more about Cradle & CGP, please visit http://www.cradle.com.my/about/coach-and-grow-programme/.