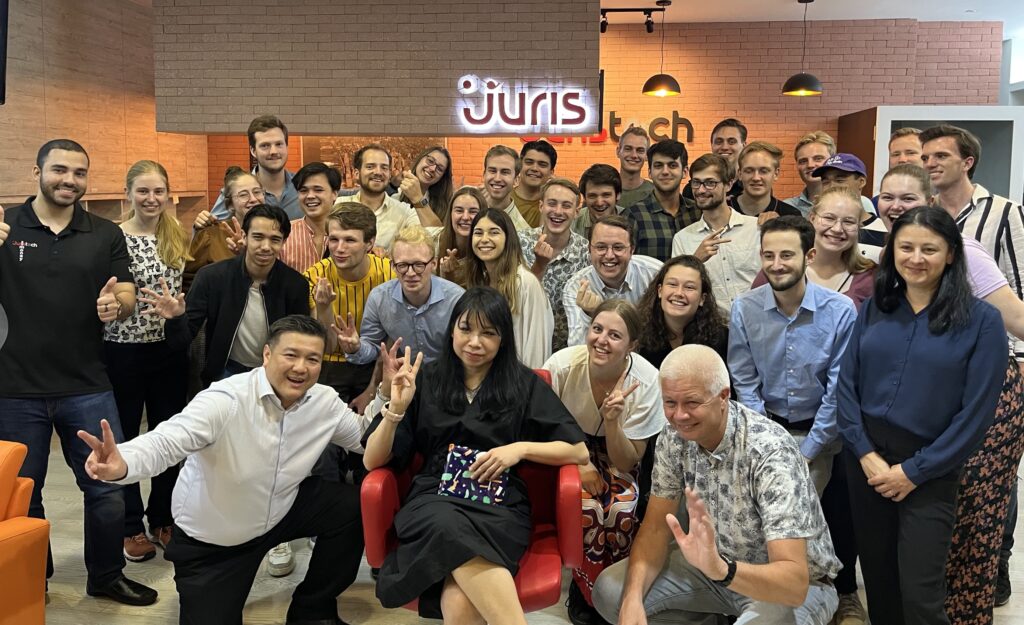 JurisTech had the delightful opportunity on July 25, 2023, to be the gracious host to a group of 30 students and two respected professors hailing from Delft University, Netherlands. The students and professors were treated to an enthralling and insightful talk about the Fintech landscape in Malaysia, complemented by an interactive tour of JurisTech's office premises. The company's esteemed CEO, See Wai Hun, and accomplished COO, Naaman Lee, took center stage to deliver a truly enriching presentation, generously sharing invaluable insights into the intricate and dynamic Malaysian financial landscape. The students, pursuing their master's studies in mathematics and computer science, found themselves immersed in a world of knowledge and expertise that left a lasting impression on their academic journey.
As the students and professors arrived in the morning, they were embraced with genuine Malaysian warmth and hospitality, which manifested in a delectable feast of traditional breakfast delights. Naaman, with enthusiasm, introduced the cultural significance of each breakfast item meticulously prepared by JurisTech for both the students and professors, fostering a deeper connection to the local cuisine.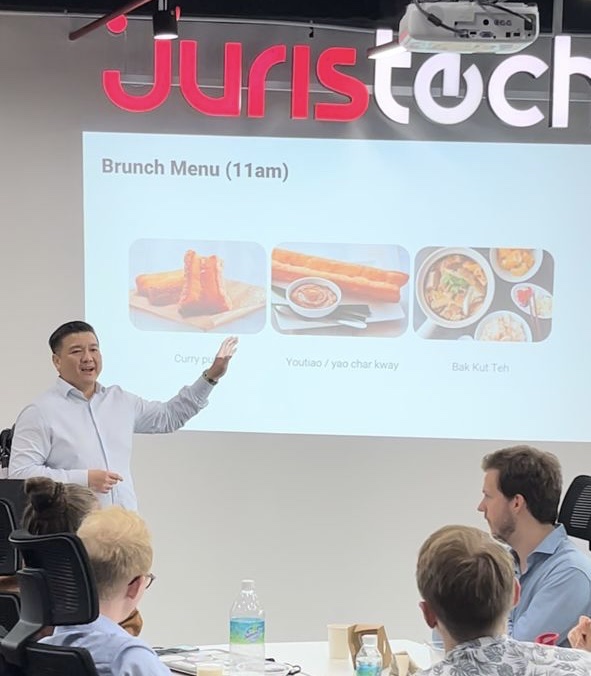 JurisTech COO Naaman Lee introducing local cuisine
The event then commenced to Wai Hun providing a concise introduction to JurisTech, highlighting the company's instrumental role in propelling the evolution of the banking and financial sectors through groundbreaking software solutions. With a global presence spanning ten countries, JurisTech ambitiously aims to serve 100 institutions across these countries by 2028, showcasing an unwavering commitment to driving innovation.
Moving forward, Wai Hun delved into the three distinct ages of Fintech. Fintech 1.0, the initial phase, focused on establishing the foundation for global financial services, paving the way for its future significance. The emergence of Fintech 2.0 saw the transition from analog to digital processes, fueled by the widespread adoption of smartphones and financial mobile applications. Finally, Fintech 3.0 marked a regulatory opening that welcomed diverse Fintech players, fostering a dynamic and vibrant financial landscape.

The Three Fintech Ages
Besides, Wai Hun also talked about digital banks—a transformative aspect in the financial industry. Operated entirely online, with no physical branches, digital banks deliver financial services through user-friendly mobile apps and websites. Leveraging advanced technologies like AI and automation, these banks offer innovative products with transparent pricing. The seamless and convenient customer journey, from account opening to customer service, appeals to tech-savvy individuals, contributing to the exponential growth of digital banking.
Wai Hun elaborated on the crucial role of digital banks in promoting financial inclusion, especially for underserved markets like SMEs and startups, as well as low-income individuals and millennials. The issuance of digital banking licenses by Bank Negara in Malaysia has bridged the financial services gap for these businesses, ushering in convenient and cost-effective solutions. By harnessing technology, digital banks streamline operations, enhance efficiency, and lower costs, positioning them as pioneers of financial innovation.
Following the insightful session, Wai Hun guided the students to engage in an invigorating brain writing session. The primary goals of this session were twofold: to swiftly amass a substantial collection of potential solutions and to optimise the prospects of generating innovative ideas within the set. The session acted as a catalyst, sparking the students' creative faculties and propelling their minds to soar to new heights, resulting in a surge of ingenious ideas that held the promise of groundbreaking innovation.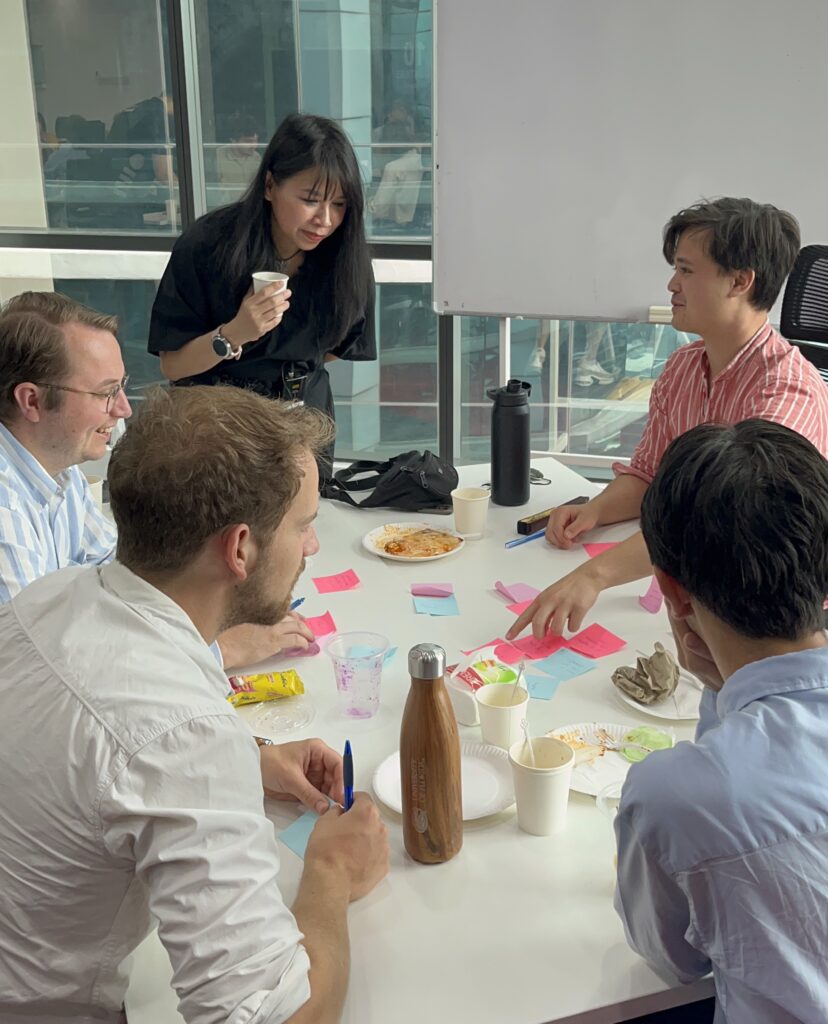 JurisTech CEO Wai Hun Listening To Students' Ideas During Brain Writing
After the insightful presentation, an interactive Q&A session with Wai Hun and Naaman ensued, offering the students a precious chance to partake in a knowledge exchange. Filled with enthusiasm, the young learners eagerly sought to glean wisdom and insights, recognising the invaluable opportunity to tap into the wealth of experience possessed by these accomplished individuals. With a profound desire to absorb the valuable knowledge shared by Wai Hun and Naaman, the students were eager to engage in meaningful discussions and embrace the enlightening perspectives offered by these esteemed leaders.
Following the enlightening Q&A session, our esteemed Senior Marketing Analyst, Abdullah Al Hindi, graciously invited the students and professors on an immersive office tour. With Abdullah and other dedicated employees as guides, the students and professors were organised into groups, allowing them to explore various untis at JurisTech. Each unit's representatives offered detailed insights into their roles, providing valuable glimpses into the company's inner workings and vibrant culture.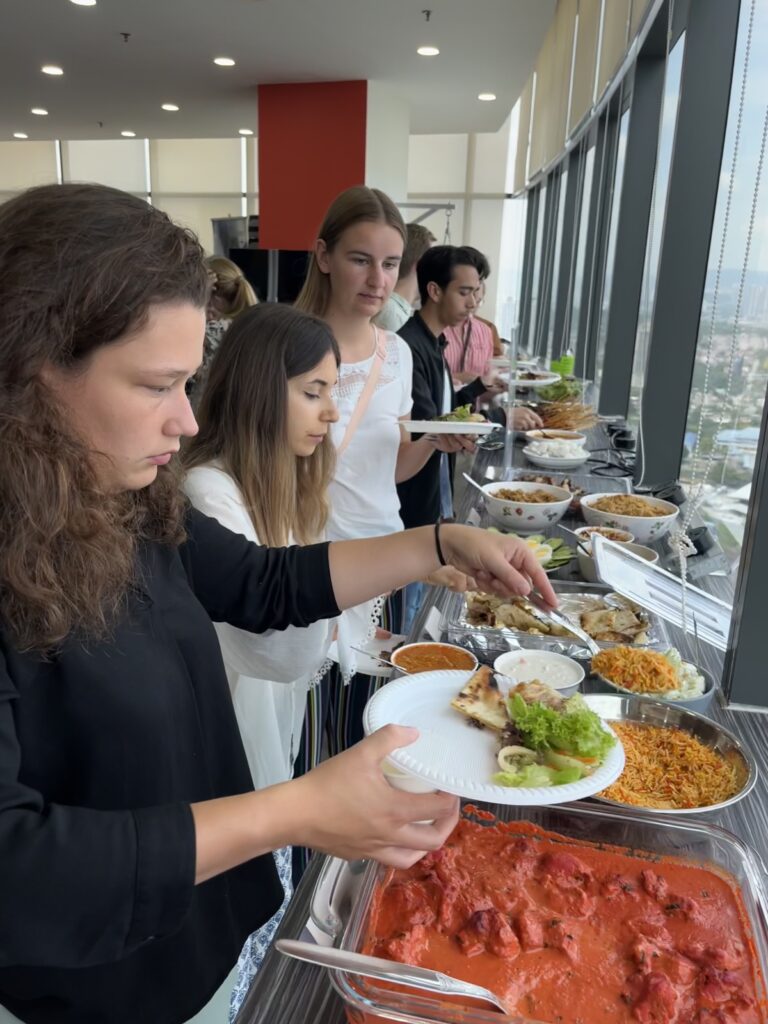 Delft University Students Enjoying Malaysian Local Cuisine
Wrapping up the day's proceedings in a delightful tone, the students were treated to a delectable lunch brimming with a variety of renowned local delicacies. After the meal, the students received thoughtful gift tokens from JurisTech, which added an extra touch of appreciation to the experience. The day had been a journey of exploration and enlightenment, leaving an indelible mark on their academic and professional journeys.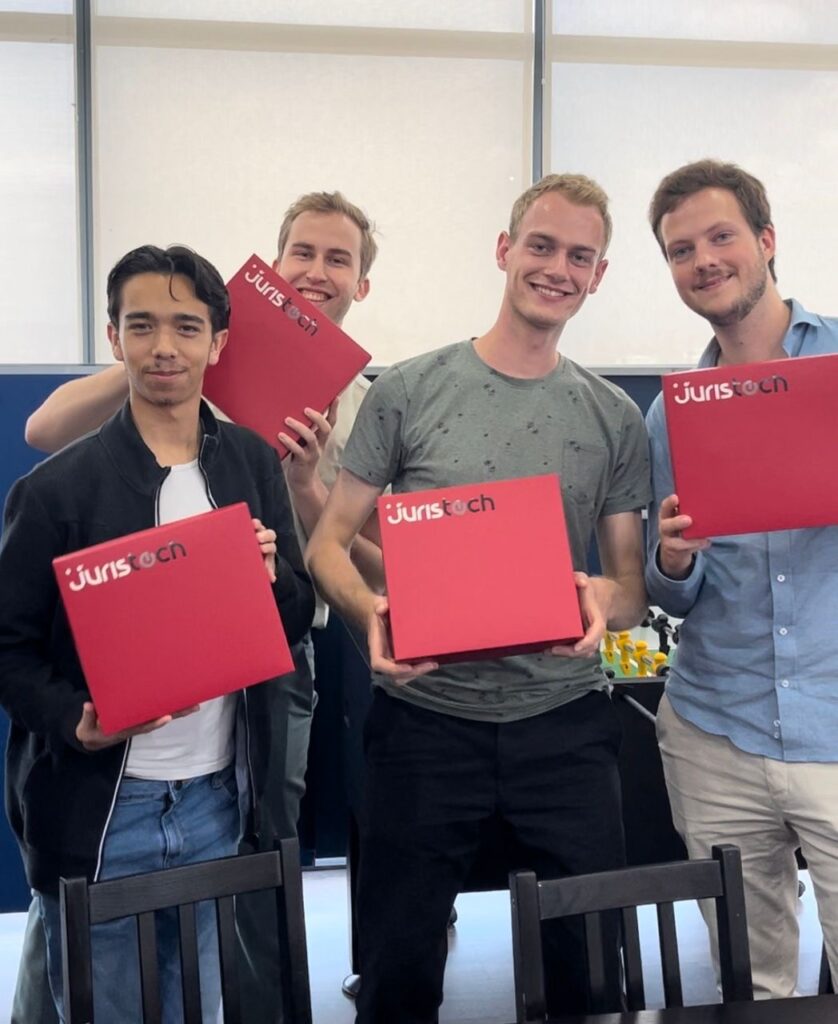 Delft University Students Received Gifts From JurisTech
About JurisTech

JurisTech (Juris Technologies) is a leading Malaysian-based fintech company, specialising in enterprise-class software solutions for banks, financial institutions, and telecommunications companies in Malaysia, Southeast Asia, and beyond.