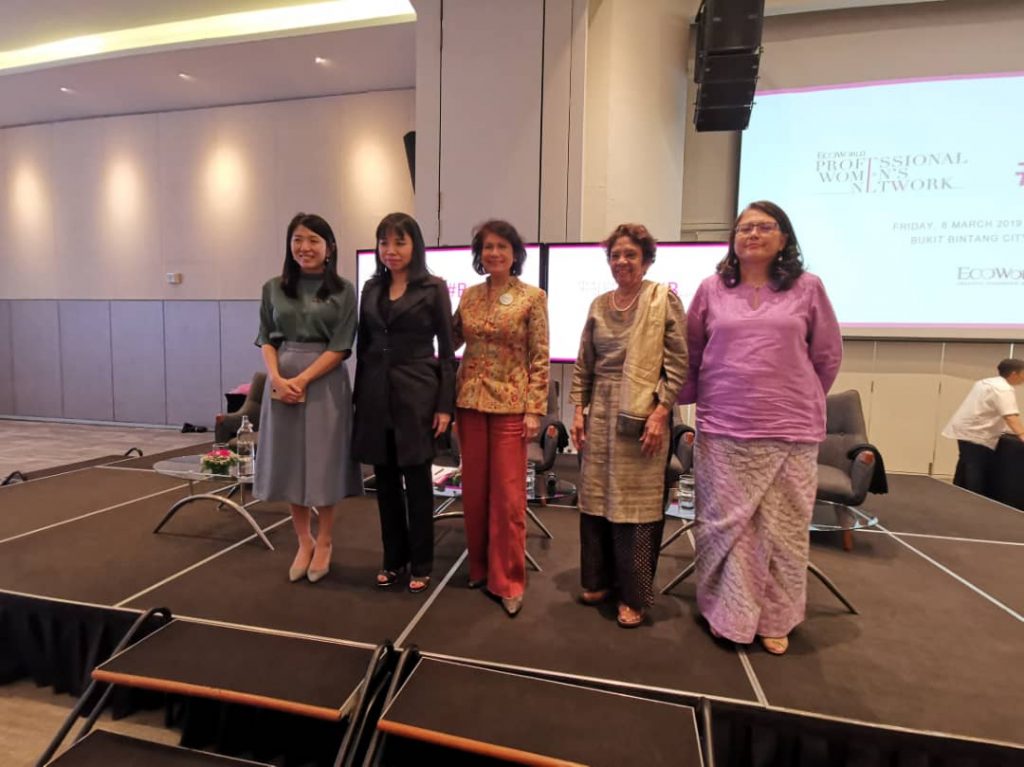 "Women need to challenge societal perceptions of what they can or cannot do," said See Wai Hun during a panel discussion held at the EcoWorld Women's Summit 2019 in conjunction with International Women's Day on 8th March. The panels were comprised of esteemed female role models and trailblazers such as Yeo Bee Yin, the Minister of Energy, Science, Technology, Environment and Climate Change; Samantha Lee, Head of Group Legal of EcoWorld Development Group Bhd; Anita Hughes, Managing Director of EcoWorld Management and Advisory Services (UK) Ltd; Francesca Chia, CEO of GoGet; Dato' Yasmin Yusuff and Rozana Isa, Executive Director of Sisters in Islam.
The panel discussions were moderated by Dato' Noor Farida, Director of EcoWorld group and former Special Adviser on Maritime Issues to the Minister of Foreign Affairs Malaysia and Malaysian Co-Agent to the International Court of Justice.
The theme of the event was #ReImaginingMalaysia and #ReshapingFutureWorkForce.
The panelists offered their insights on the most pressing issues being faced by working women in Malaysia and women in general. Gender pay gap, maternity leave for both parents, and holding corporations and employers accountable for fair treatment of female employees; are just a few of the issues that were brought up during the lengthy panel discussions. Audiences were given a chance to interact with the panelists via digital polling, highlighting the most highly voted questions. Primarily questions related to social justice, equal pay, women's representation in tech, businesses, boardrooms and politics.
Our CEO See Wai Hun in particular was asked about how young women should pursue their passion. Wai Hun's answer is not what you would expect.
"I believe passion is overrated," said Wai Hun. "If you want to do something, or rather want to get something done, even if it is something you do not like, you have to grit your teeth and strive to get it done. And once you become skilled in that line of work, you suddenly discover you are passionate about it. You can  make yourself passionate about anything, as long as you want it bad enough," said Wai Hun over a tumultuous applause.
Other panelists such as Mary Shanthi Dairiam, founding director of  International Women's Rights Action Watch Asia Pacific; voiced her concerns over how women still face inequality and discrimination in terms of social justice and employment. "Malaysia is ahead compared to other Asian countries in terms of women empowerment, but statistics show that we still have miles to go," said Mary Shanthi.
Wai Hun discussed how JurisTech makes special arrangements for new mothers by offering them flexible working hours and the means to work remotely from home, during the first two years of giving birth.
At this point, Yeo Bee Yin commended Wai Hun and JurisTech for their progressive women-friendly policies and urged other corporations to adopt similar measures. "Government cannot solve all the issues on its own, citizens and corporations must also work in coalition," said Yeo Bee, Minister of Energy, Science, Technology, Environment and Climate Change.