This article originally appeared in DigitalNewsAsia.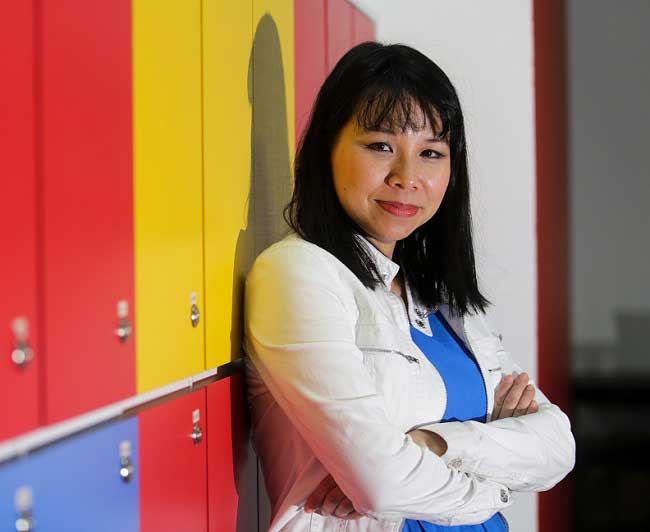 SEE Wai Hun (pic above), the chief executive officer of JurisTech, never wanted to be an entrepreneur.

She had worked as a consultant at Ernst & Young and as a business analyst at Sistemaju before joining Sapura to develop and implement business intelligence solutions.
Wai Hun was perfectly happy in the corporate world until she crossed paths with John Lim, a man with an entrepreneurial dream. He would later become her business partner and JurisTech's chief technology officer and architect.
Loan smarts
Catering mainly to banking, telecommunications, and insurance companies, JurisTech has two flagship software products: Juris Collect for debt collection; and Juris Originations Management for the origination of loans.
Unlike other core banking software systems, which are not as agile and customisable, JurisTech  software provides customers with the ability to automate their processes. This helps them achieve financial change, higher efficiencies, and also implement strategies to improve their collections, according to Wai Hun.
"What we do is help banks to give out loans, check whether the customer can repay these loans, and decide who in the bank can approve these loans," she says.
What happens if the customer cannot repay these loans?
"We help chase after the customers by sending out letters, calling the customers, or sending debt collectors after them," says Wai Hun. "If all else fails, we send lawyers after the defaulters."
Deep blue ocean
When Wai Hun and John first started on their entrepreneurial journey, it was 1997, the year of the Asian financial crisis.
While they were excited about the launch of their first company, Natsoft (M) Sdn Bhd, they learned to adapt quickly to an environment that Wai Hun says was not just a blue ocean but a "deep blue ocean."
They started by offering a debt-recovery software solution, which wasn't available in the banking market back then.
At the time, when accounts became non-performing, banks had to resort to taking legal action – and the volume proved to be unmanageable.
By providing a peer-to-peer network to connect parties together, Natsoft became an instant hit. So in 2003, it was only natural to start an MSC Malaysia status company: JurisTech.
Divine intervention
Things may have started out well, but a year after the company was established, competitors began to emerge. Suddenly, the 'deep blue ocean' started to look rather murky. The competition was stiff and times were tough.
At one point, Wai Hun and John couldn't even pay their own salaries, although they continued to pay their staff. They couldn't see a way out of the cash flow crunch and their parents started asking them to quit.
It was then that Wai Hun turned to prayer. When she went to the altar that Sunday, her pastor, without asking what she was praying for, said, "There will be a breakthrough in your business."
Shortly after, they did get their breakthrough and landed one of their biggest deals at the time. A telecommunications company awarded them a huge contract to recover debts by connecting them to external collection agencies.
Sweet success
In 2007, JurisTech had just 20 staff but bravely competed against software giants in the debt collection space.
It made a giant leap forward, from selling to law firms to selling to banks. The decision to compete and go head-on against the giants was a bold one, admits Wai Hun.
"Being able to succeed in this area is an amazing achievement for us," she says with pride.
The founders' courage and persistence have paid off, as JurisTech has won several awards including the Apicta (Asia Pacific ICT Alliance) Merit Winner for Best of Financial Applications 2012 (both Malaysian and International Awards), the Endeavor Entrepreneur 2014 Award, and the Global Leader of the Future 2014, CGP Award.
As they've grown from strength to strength, the founders have not forgotten those who have rallied behind them through the years. Recently, they began offering profit-sharing to their senior staff.
"In the first year that we did that, some of them cried with joy during their appraisal and it was one of the moments that I cherish," says Wai Hun.
What's next?
While JurisTech has gained much success, Wai Hun says its biggest challenge is on the horizon.
"We always need to think of what we need to do to grow to the next level," she says. To face this challenge, every few years the John and Wai Hun look at their revenue growth and ask, "What's next?"
They also explore different but complementary product adjacencies to offer a complete suite of products to their market segment.
This has helped make their software platform stronger and more agile, as they grow their talent pool and become more competitive.
Their ultimate vision, says Wai Hun, is to be the best credit management software provider in the world.
Endeavor entrepreneurs
While Wai Hun has the corporate experience and John the technical expertise, they realised that they didn't have all the important figures at their fingertips.
This is where the Coach and Grow Programme (CGP) proved invaluable. The duo gained priceless ideas on networking, a better handle at setting targets, and a grasp of how to measure their progress.
During the CGP, the JurisTech team was also exposed to Endeavor.org, a global high-impact entrepreneurship movement. After a rigorous selection process, they were chosen by an international panel as 'Endeavor entrepreneurs.'
Endeavor has provided JurisTech access to a network of world-class business leaders both in Malaysia and internationally.
This set them on a path of believing that they can succeed not just in Malaysia but on the world stage too.
Saying 'no'
Though she had never set out to become an entrepreneur, Wai Hun now considers it her dream job.
To gain added perspective for her business, she looks to outstanding business minds like Chris Zook, a partner in Bain & Co's Boston office.
The author of the book Profit from the Core spoke to her personally at a conference and made her realise what she was doing wrong with her business.
"I still remember his one piece of advice, which I executed immediately when I came home: 'Strategy is what you say 'no' to'," she says.
Click digitalnewsasia to find out more.